The Great Khan by Michael Gene Sullivan
Produced by San Francisco Playhouse
By:
Victor Cordell

-

Oct 23, 2021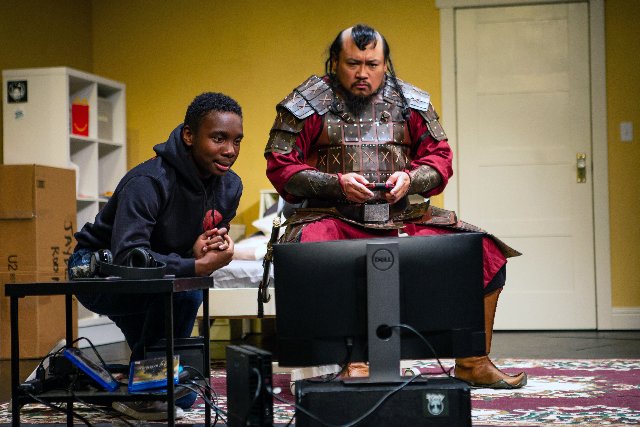 No good deed goes unpunished. Often, acts of compassion or bravery imperil the hero. The ensuing limelight is often unwelcomed as the savior may prefer to lead an anonymous life. Worse yet, the person may have something to hide that becomes exposed with the notoriety, so that hero becomes victim. Even the beneficiary of the good deed can be displeased. The public portrayal of that person may not be consistent with the person's self-image.
Playwright Michael Gene Sullivan fills the house with laughter in addition to thoughtfulness and social reflection. In his affecting premiere "The Great Khan," an otherwise unassuming, middle-class, black teenage boy, Jayden, has saved a black teenage girl, Ant (full name - Antoinette), from a gang of boys. This creates a dissonant condition for both of them. Each must deal with the undesired reputation that the situation has spawned. They are sweet kids, but does Jayden have to live up to being courageous, and should Ant accept the perception that she needed saving, or should she show that she's tough? Single-parent mother, Crystal, is so concerned that the gang might strike back at her son for interfering that mother and son move, with the boy enrolling in a new school.
Several short thrusts into other social issues occur – relationships between mother and child, teacher and student, boy and girl; white abuse of and ignorance about blacks; puberty and more. Some may consider the play a bit preachy, but quite frankly, there's a lot more to preach about beyond the limits of this staging. The other main theme of the play derives from a school research assignment that Jayden shares with Gao-Ming, a shy, yet effusive Chinese-American girl. The task is a presentation on Mongolian leader Genghis Khan, an evocative figure, largely reviled in the West, and indeed, by many Asians including Gao-Ming's mother.
While the two students affirm much of what is popularly known of Genghis Khan, they find that he, like many famous leaders, was very complex with much to admire. So why does the playwright care about this historical figure? Jayden notes that when European countries by dint of superior force colonized the African continent, they decimated local leaders, records, and cultural artifacts, destroying the people's heritage. African heroes from history were lost. Largely, whites feared blacks and often assaulted them preemptively in many ways, a condition which remains today. Jayden latches onto Genghis as a proxy, who, because of a different set of circumstances than Africans, beat the Europeans at their own game.
Much of the humor in the play derives from surprise visitations that Jayden receives first from Ant and later from Genghis Khan. Ant is tangible and her mission is palpable. She wants to assure that Jayden doesn't spoil her reputation, and maybe something else. But what about Genghis? Is he Jayden's fantasy? a neighbor? Gao-Ming's father? In any case, he has some wise things to say, and he sure is funny as he rattles the kid's cage.
Finally, beyond the moral issues and conflict resolution, "The Great Khan" is about the beauty of youth, and how many of us look back blissfully on our younger days. Kids never want to move. We don't want things to change. Both Jayden and Ant want nothing more than to have their lives before the defining incident back. Even Genghis perceives himself not as the great conqueror, but as Temujin (his birth name), who loved and fought to win his young wife and who brought people together in his early days.
Structurally, a weakness in the play is the extended use of video games toward the end, which slows the pace and won't resonate with those unfamiliar with the particular titles. As a preface to the major irritant, let me note that I am a liberal/progressive. But even I find it offensive that Jayden and Ant repeatedly use "the n…. word" which is deemed so despicable that whites aren't to even use the word in a third-party quote or reference. Putting the word unnecessarily and aggressively on display provides ammunition to racists who don't buy the argument that minorities get an exemption to call themselves by ethnic pejoratives that others can't.
Although the characters are largely stereotypes, they are sympathetic. The performers are engaging, led by Leon Jones as the always under pressure but resilient Jayden, with a particularly strong comic contribution by Brian Rivera as Genghis. Jamella Cross as Ant, Velina Brown as Crystal, Kina Kantor as Gao-Ming, and Adam KuveNiemann as Mr. Adams, round out the excellent cast. Credit Darryl V. Jones with fine direction.
"The Great Khan" by Michael Gene Sullivan is produced by San Francisco Playhouse in co-production with The San Francisco Mime Troupe in a rolling world premiere. It plays on SF Playhouse's stage at 450 Post Street, San Francisco, CA through November 13, 2021.