A Nice Family Gathering by Phil Olson
Produced by Altarena Playhouse
By:
Victor Cordell

-

Oct 23, 2022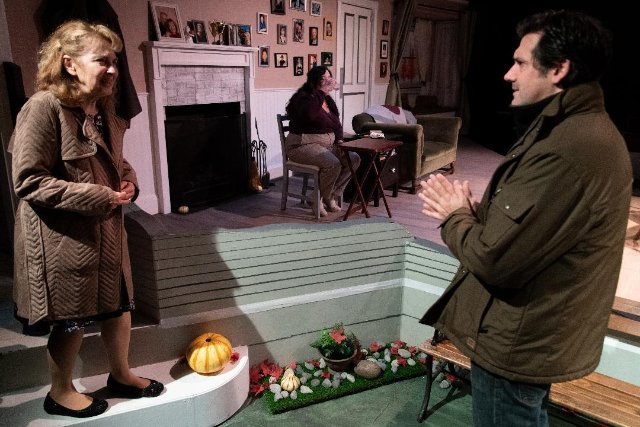 What tradition is more American than a family get together for Thanksgiving dinner? Phil Olson's "A Nice Family Gathering" occurs on such an occasion, but with a couple of wrinkles. It takes place in Minnesota, embracing a panoply of only-in-Minnesota traits, including the dialogue being delivered in droll sing-songy Scandinavian-American accents, replete with the signature "you betcha!" And, oh yes, there's a spirit in the house that has nothing to do with alcohol.
Altarena Playhouse has taken this endearing and hilarious parlor comedy and made it their own. Under the masterful direction of Kimberly Ridgeway, every role is performed exquisitely with crackling comedic timing. The play moves briskly, offering a laugh-out-loud evening with just the right soupçon of sentimentality.
Missing from the reunion is Dad, a physician who died 10 months before. However, unbeknownst to others, his ghost appeared to son Carl at his funeral, and he has returned for Thanksgiving. In a chatty column that Carl writes for the local weekly paper, he had captured his father as "the man who loved his wife so much that he almost told her."
Now, the deceased wants to tell his widow how much he loved her. Higher authorities have designated Carl as his mouthpiece, but the son begrudges the assignment, because he never felt that his Dad really loved him. Mom shows symptoms of Alzheimer's, and it's not clear how she would respond to supposed communication from beyond the grave. Complicating matters, she has invited a date to dinner, Jerry, who was a golf buddy of Dad's. You can imagine Dad's reaction to that. As Dad, Kyle Smith mines his irascibility with sardonic humor, He convinces as one who regrets that he didn't express his love for all of his family when he was alive.
Beyond the ethereal thread in the narrative, a family in dysfunction unveils. Mom, who is played in appropriately drowsy understatement by Marsha Howard, is a doozy. She delivers hot water that is supposed to be coffee; blithely draws everyone's attention to announce an agenda for the day comprised of one item; and can't remember her daughter's name, if she can remember her at all. But when she discusses her estate, she sounds like a Certified Financial Planner.
Despite Mom's isolation and mental state, her children rarely visit. Carl, the central character who communicates with the living and the one dead, has the opportunity, but he's both self-indulgent and self-conscious. He hopes to earn a living as a writer, and like most artists, he identifies himself by his aspiration. What pays the rent is driving a Pillsbury Doughboy truck, so he hasn't set the world on fire. As Carl, Peter Marietta brings great charisma, yet he uncovers the character's ambivalence and resentment and makes him quirky and very funny.
Older brother, Michael, played by an effusive, confident, and condescending Byron Guo, has met Dad's expectations. He possesses the trappings of being a physician, from the country club to the BMW, but he has marital issues, as evidenced by the frequent crying fits of wife Jill, effectively portrayed by Missa Perron. Alejandra Wahl captures the diffidence of younger sister, Stacy. Who knows whether her timidity is the cause or the effect, but everyone around seems to forget or ignore her. However, she will come to life with surprises that will grab everyone's attention. Finally, J. Aaron Seymour nicely conveys the slipperiness of the interloper, Jerry, who tries to ingratiate himself with Mom and her protectors.
Objectively, most of the characters in "A Nice Family Gathering" are not sympathetic, but the plights that they confront are common, and their frailties are human and understandable. The goofiness of their personas, exacerbated by their accents, also take the edge off of their weaker traits. Humor abounds. Mom tells a pizza story with a conclusion that is a total non sequitur. That story and the implausible ending are even reprised to more laughter. Carl frequently must cover up for talking to his invisible Dad by acting as if he's talking into his recorder.
Finally, the staging enhances the overall effect. Tom Shamrell's single-set design expresses hominess and works nicely to allow activity in the main room as well as outdoors. Stephanie Anne Johnson's usually unobtrusive lighting with occasional directional floods is very effective.
We can often overlook any deeper meaning when seeing a comedic play, but this one actually has a lot to say. It honors selfless mothers; urges the courage to say and do the right things before it is too late; advocates following our dreams; pillories slavish devotion to status symbols; and asks us to better understand those who are near to us.
"A Nice Family Gathering" by Phil Olson, is produced by Altarena Playhouse and is performed on its stage at 1409 High Street, Alameda, CA through November 20, 2022.