Williams' Night of the Iguana
Palm Beach Dramaworks
By:
Aaron Kraus

-

Oct 24, 2016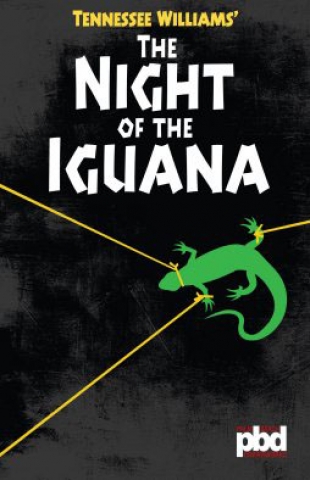 In a scene from Palm Beach Dramaworks' splendid production of Tennessee Williams' riveting and relevant drama The Night of the Iguana defrocked minister The Rev. Lawrence Shannon is tied up with many ropes to a hammock.
He can't wiggle free, try as he might, and nobody's about to let him go, for fear that he's a threat to himself. The hammock bends sideways under the weight of the shamed former preacher. It's as though he's at a mental hospital with well-meaning, but unbending caregivers who know what's best for their patient. Despite the awkward angle at which Shannon lies, the ropes cling him to the hammock – just as he wishes to cling to the comfort of companionship and human connection.
As played by the excellent Tim Altmeyer, Shannon pleads in an achingly authentic, desperate voice for another character to move so he can see her.
"People need human contact," the minister on the verge of a nervous breakdown notes.
Director William Hayes and his cast clearly drives that message home to the audience – a message that Williams, the legendary, late, great poetic and lyrical playwright, wanted to ingrain in the minds of people seeing the play. It was nominated for a Tony Award and is playing on PBD's stage in a riveting production through Nov. 13.
Throughout his career, Williams displayed a deep concern with society's lost and aimless —and those who are trapped, particularly sensitive individuals who find themselves confined in a harsh, ruthless environment.
In "Iguana," largely considered the prolific Williams' last commercial success, the playwright, no stranger to symbolism, once again uses a vivid symbol to represent characters trapped in a prison of loneliness and unfulfilled desires.
The intense desire to connect with fellow human beings unites the play's major characters, particularly Shannon.
His world has crumbled.
The Texas spiritual leader has been accused of statutory rape against a minor and defaming God's name in front of his congregation.
After being locked out of his congregation, he takes a job as a tour guide. While driving a group of Baptist college teachers through Mexico, he stops at a dilapidated hotel. Pretty soon he's fired from that job as well. He's left at the hotel with proprietress and widow Maxine Faulk (Kim Cozart Kay), who is no stranger to Shannon, artist Hannah Jelkes (Katie Cunningham) and her sound of mind, but immobile poet grandfather, Jonathan Coffin "Nonno" (Dennis Creaghan).
The characters experience one painfully long day's journey into the night as they struggle with Shannon's nervous breakdown and their own sense of isolation.
Faulk's husband has just died, and though she may not overtly show it, she's hurting.
Jelkes is living with her grandfather, Jonathan (a sharp sounding Creaghan) who's in his late 90s. She, too, is having to come to grips with his imminent death and being alone. To distract herself from that reality, she more than once proclaims that he's 97-years "young" and almost a century "young." Even with her grandfather alive and sharp to the point that he can still create poetry, Jelkes busies herself in her artwork. She could clearly benefit from human contact.
The actors have disappeared into their roles, speaking with such spontaneity that this production hardly seems like a performance.
As we enter the intimate, semi-circular Don & Ann Brown Theatre, the curtain is open, drawing us into the world of the characters, who spend a long half-day in the ramshackle Costa Verde Hotel on the west coast of Mexico. The set is deftly designed by Michael Amico in a manner that suggests a shabby, claustrophobic environment surrounded by foliage you'd typically find in a tropical environment.
There's a jungle-like quality to Amico's design, suggested not only by the surrounding greenery but rock-like structures that prove useful in one of the production's most powerful scenes.
In the scene, a replacement tour guide has arrived to take over for Shannon. He grabs the keys from the shamed former man of the cloth and takes off with the tourists, leaving Shannon stranded at the hotel with the other characters – including some who not only provide comic relief, but mercilessly mock Shannon and his misdeeds. A suddenly manic Shannon runs throughout the hotel, ranting, screaming, growling, screaming and climbing those rocks. At this point, he resembles the farthest thing from a minister. He's more like a raving psychopath in an insane asylum or a raging wild animal looking to escape from the jungle.
In the scene, Altmeyer looks and sounds so devastatingly authentic, you fear that this out-of-control creature will come after you. Nothing seems forced in this top-notch performance by Altmeyer, who seemingly effortlessly conveys Shannon's unsteadiness.
There are plenty of highly physical, fast-paced, chaotic scenes, directed with sensitivity and detail by Hayes. He also ensures the pacing is varied, nicely contrasting frentic moments with quieter and contemplative ones. Shannon regains sanity during these moments, mostly with Jelkes and Altmeyer transitions smoothly to a man who starts acting rationally.
Cunningham is sometimes hard to understand as Jelkes; she could enunciate more, but she carefully creates a convincingly sensitive, wary and sympathetic character with impressive nuance.
Kay offers a multi-faceted production as Faulk. She captures a laid back, southern charm, as well as a no-nonsense intensity when she must deal with unruly guests. When her place erupts in chaos, Kay's Faulk conveys a sense of reason and order.
Kay never suggests her character is in mourning for her recently deceased husband and that's a wise acting choice. Even when he was alive, she slept with other men and her relationship with her husband was strained.
The shining cast also includes a commanding performance from Irene Adjan as Judith Fellowes, whose teenage niece Charlotte Goodall (Alexandra Grunberg) tries to seduce Shannon. Fellowes, who openly communicates her anger at Shannon, invests the character with a commanding, combative demeanor.
Paul Black's lighting reflects the darkness enveloping Shannon.
Matt Corey's sound design consists of authentic sounds of a storm…mirroring the "storm" that's brewing within Shannon's mind. In a nicely created effect, the trees seem to blow on their own.
In the play, all the characters are searching or yearning for something – even Jelkes' grandfather. The fancy suit he wears, as part of the character-appropriate costumes designed by Brian O'Keefe, suggests the grandfather is trying to retain a sense of dignity even as he's immobile and vulnerable. During the storm scene, it's hard not to envision King Lear in Nonno, who looks lost and aimless.
Nonno might remind you of a similarly aging but still sound-minded relative who is trying to crank out the last bit of creativity within him before he dies.
This play might make you look inward in other ways: How much close human contact do you enjoy in your life in this age of instant messaging and other social media,.
The Night of the Iguana
By Tennessee Williams
Through Nov. 13
Palm Beach Dramaworks
201 Clematis St.
West Palm Beach
Individual tickets are $66. Call (561) 514-4042 or visit http://www.palmbeachdramaworks.org.