Anthony Davis X: The Life and Times of Malcolm X.
Record Released
By:
Susan Hall

-

Oct 25, 2022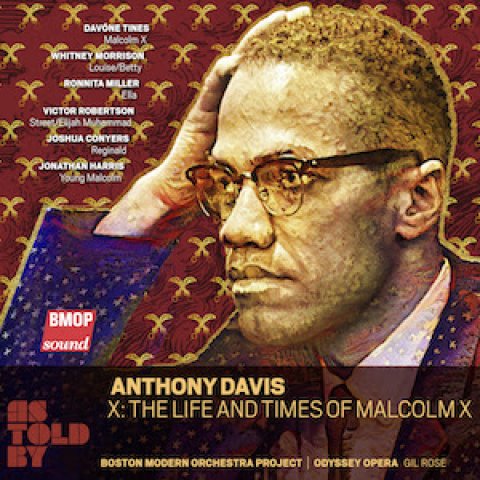 Anthony Davis: X: The Life and Times of Malcolm X
Composer: Anthony Davis (b.1951)
Librettist: Thulani Davis (b.1949)
Producer: Gil Rose
Release Dates: October 25, 2022 (CD release), September 30, 2022 (digital release)
TRT: Disc One 77:52, Disc Two 71:23
Works: The Life and Times of Malcolm X (1986)
Performers: Davóne Tines as Malcolm X (bass-baritone), Whitney Morrison as Louise/Betty (soprano), Ronnita Miller as Ella (mezzo-soprano), Victor Robertson as Street/Elijah Muhammad (tenor), Joshua Conyers as Reginald (baritone), Jonathan Harris (treble) as Young Malcolm, Odyssey Opera chorus, and Boston Modern Orchestra Project (BMOP) led by Gil Rose (conductor)
Known as the nation's foremost label launched by an orchestra and devoted exclusively to new music, Grammy Award-winning BMOP/sound announced the world premiere recording of the revised version of Anthony Davis's seminal opera X: The Life and Times of Malcolm X, along with a companion curriculum guide. This past summer in Boston's historic Strand Theatre, just blocks away from Malcolm X's childhood home, conductor/producer Gil Rose led the Boston Modern Orchestra Project (BMOP), celebrated bass-baritone Davóne Tines (embodying the title role of Malcolm X), a stellar cast of today's top singers, and the Odyssey Opera chorus in a groundbreaking recording session that cements X as one of the great American operas of the 20th century and inaugurates an historic series of recordings from BMOP/sound.

After lying dormant for 36 years following its New York City Opera premiere, X was recently resurrected, with performances by Detroit Opera and BMOP to be followed nationwide by Opera Omaha, Seattle Opera, Lyric Opera of Chicago, and the Metropolitan Opera (to be presented in 2023-24 season). According to composer Anthony Davis, winner of the 2020 Pulitzer Prize for Music for The Central Park Five, there is no better time than now to revive X. "It has been over three decades since the premiere of X. Malcom X's vision is as prescient today as it was in 1986," says Davis. "He is an inspiration for Black Lives Matter and the movement for social justice. As a composer, I am thrilled to help create X as an opera for today that speaks to the future as well as the past."

According to Gil Rose, Founder and Artistic Director of both BMOP and Odyssey Opera, "It was exciting to work with Anthony to record this updated version of X. There is no better way to celebrate contemporary Black creativity than with the resurrection of such a monumental work composed, written, performed, and recorded by Black artists. We are thrilled to be able to share this major opera with the world."

A collaborative effort by Davis, his cousin Thulani Davis, who wrote the libretto, and his brother Christopher, who conceived the story, the opera depicts Malcolm X (1925-1965), one of the most misunderstood men in history. It is a sprawling genre-bending biographical opera that unfolds Malcolm X's galvanic life and career in three acts of fast-moving jazz-infused vignettes. Recently completed revisions to the score (as heard in this recording) reflect Anthony Davis's updated views on the opera.
Berkshire Fine Arts review here.