Arabella at San Francisco Opera
By Richard Strauss with Libretto by Hugo von Hofmannsthal
By:
Victor Cordell

-

Oct 26, 2018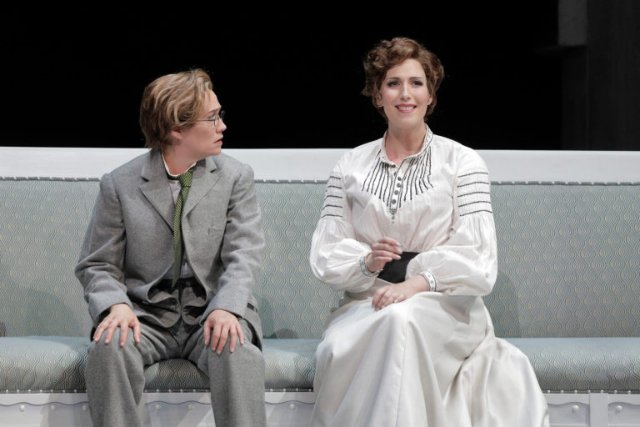 Richard Strauss and Hugo von Hofmannsthal constituted one of the greatest partnerships of composer and librettist in opera history. After delving in weightier realms in their two previous operas, they returned to earlier source material, the light-hearted Vienna of their great success, Der Rosenkavalier. This final collaboration was the "comedy" Arabella, a story of a noble family with two daughters coping with financial free fall. Strauss's lush orchestral arrangements yield a very attractive score, and San Francisco Opera has assembled a talented cast to meet its demands and produce a delightful experience.
Count Theodor Waldner's gambling addiction has destroyed the family's financial security. He and Countess Adelaide hope that a strategic marriage for Arabella will bring relief to their strain. Unable to support their second daughter in society, Zdenka's tomboy past was put to good use. She was raised as a boy – Zdenko.
Ellie Dehn capably heads the cast as Arabella, managing the high tessitura with ease. This opera includes the some of Strauss's most ethereal music, especially the beautiful duet between Arabella and Zdenka, which the sopranos caress joyfully. The wonderful Heidi Stober portrays Zdenka with fine voice and magnetic appeal, highlighted by her soliloquy.
Perhaps an unfair knock on Arabella is that the Coachman's Ball in Act 2, which provides some action and color in the proceedings, doesn't drive the storyline. However, the plot points have to occur somewhere, so why not at an exciting event? Not to mention, the elements of the libretto are very Shakespearean, and the Bard took such liberties in his comedies as well. Granted, the flittering, flirtatious, Fiakermilli is written in mostly for the purpose of her belting some elaborate coloratura soprano numbers. In that role, Hye Jung Lee's lively rendition adds a welcomed dash of spice to the entertainment.
Fortuitously, Mandryka, a wealthy Croatian landowner, is to take Arabella's hand. But he hears that the key to her bedroom is being given for an assignation to Matteo, a young military officer who has been rejected by Arabella and who is Zdenko's best friend. What no one else knows is that the lover in the darkened bedroom will be Zdenko – er, make that Zdenka. Of course, consternation and confusion reign.
In the denouement, Zdenka reveals herself as a woman and the bed partner to Matteo in Arabella's bedroom. Mandryka, ably sung by the sturdy and lyrical Brian Mulligan, profusely apologizes for not trusting Arabella, but is uncertain whether she would accept him back. Her offer to him of a glass of water, which he had earlier said was a custom for betrothal in his village, seals their bond. Their love is evidenced in the final beautifully voiced duet. As a side note, the glass of water device echoes the presentation of the rose in Der Rosenkavalier with gender roles reversed.
This production is traditional, if updated from the mid-nineteenth century to the early twentieth. The scenery and costumes are lavish, yet the absence of color in Act 1 makes for a dreary look. The all gray scenery could be offset by bright costumes that pop like jewels. Yet, Zdenko's gray suit almost disappears into the walls. Perhaps, the gray symbolizes the attempt to make him inconspicuous, but visual excitement suffers as a result.
Thematically, feminists may have some issues with the heroine, but the opera is a product of its time, and that can't be undone. The irony is that Mandryka repeatedly makes statements to Arabella like "I will be the ruler of thousands, but you will be the ruler of me." Despite this prostration to her, in the end, she avows that she will happily be his subject!?!?
Although Strauss and Hofmannsthal had a prickly working relationship, the differing viewpoints and testy exchanges between these giants generated fine-tuned results. Unfortunately, while the two had iterated Act 1 into fine form, the remainder of the libretto was in Hofmannsthal's first version when he died. Strauss decided to honor the librettist's memory by leaving the last two acts in that form, with the result that they lack the refinement of the first. In sum, Arabella does not artistically match the model it targeted, Der Rosenkavalier, nor does it replicate the earlier work's market success.
One contrast between Arabella and other similar storylines is that usually a switch is flipped when the disguise is unmasked and the misunderstanding cleared. Happiness abounds. Here, because of the presumed suspense of whether Arabella will be forgiving, the music and the tone remain conflicted to the very end, engendering a darker feel than might be expected by the opera's overall arc. There is also an interpretation specific to this production that inhibits resolution and relief. Although the libretto makes it clear that Matteo falls in love with Zdenka upon finding that his former best chum is actually female, on this stage Matteo remains physically distant and looks perplexed rather than enamored after the turn of events.
Despite some issues with this opera, it certainly deserves its place in the repertoire. And though this production might have greater appeal with some tweaks, its performances and overall quality offer great reward.
Arabella, composed by Richard Strauss with libretto by Hugo von Hofmannsthal, is produced by San Francisco Opera and plays at War Memorial Opera House, 301 Van Ness Ave., San Francisco, CA through November 3, 2018.

Posted courtesy of For All Events.