Closer Than Ever In South Florida
MNM Theatre Company To Stream Musical
By:
Aaron Krause

-

Oct 27, 2020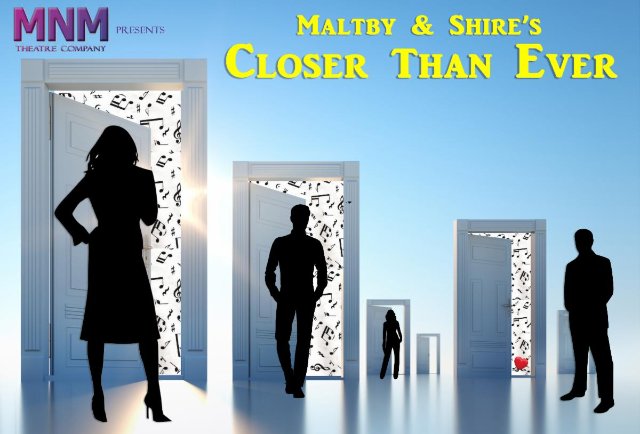 "Since we haven't been together for a long time, we knew it was time to be Closer Than Ever," said MNM Theatre Company Producing Artistic Director and CEO Marcie Gorman. "Just the name of this show seemed to be a perfect fit for these times."
Specifically, Gorman is referring to the musical revue Closer Than Ever. Richard Maltby Jr. wrote the words, while David Shire composed the music.
Audiences watching MNM's production will be together only in spirit; the West Palm Beach-based company will present a virtual production which will be available on demand. It will start streaming on Nov. 27 and be available On Demand through Dec. 31.
The musical is a "nonstop exploration of everyday struggles in the 'modern world,'" according to a show description. "Each song is a unique story told by a new character, taking audiences not only into the songbook of Mr. Maltby and Mr. Shire, but into the minds of the individuals facing these completely relatable challenges."
Closer Than Ever contains no dialogue; the show's creators have described the show as a "bookless book musical."
The show experienced a 1989 Off-Broadway production and a 2012 Off-Broadway revival. The musical won the Outer Critics Circle Award for Best Off-Broadway Musical. Closer Than Ever began its life at the Williamstown Theatre Festival in Massachusetts during the Summer of 1989. It arrived in New York the following Fall, opening in previews on Oct. 17. The musical revue officially opened on Nov. 6 Off-Broadway, where it ran for 312 performances.
MNM, which has cancelled or postponed all live shows indefinitely due to the pandemic, will film the production at the company's Boca Raton warehouse/studio. Staff will clean and sanitize it regularly. In addition, everyone involved will observe maximum safety precautions, according to a news release.
MNM will film individual show segments separately. The company has asked actors and tech crew members to observe COVID protocols "and remain as isolated as possible unless rehearsing or performing." Additionally, those involved with the production will receive COVID tests frequently. Further, MNM will take their temperatures each time they enter the building. But that's not all. Production participants will maintain at minimum a 6-foot social distance whether they're on or off stage, and will need to wear masks. That is, unless the actor is on stage or a crew member is filming him/her.
A "very small invited audience" will witness one taping live and will be subject to similar COVID protocols as production participants. In fact, each audience member will be part of the show's participants "bubble."
Director Jonathan Van Dyke "has developed a safe and incredibly creative way to present (the show) to audiences," Gorman said. "I'm excited about this on so many levels, not the least of which is to provide work for our actors and technical people, most of whom haven't worked for months and are so looking forward to once again 'making theatre.'"
Van Dyke said staging Closer Than Ever was a logical choice.
"Knowing what we are facing in live performance logistically and what would resonate artistically, for me the choice was Maltby & Shire's Closer Than Ever,'" he said. "The title alone says so much of where we are. While unable to be close physically, in our hearts and minds we are Closer Than Ever. "I'm so looking forward to working on this material with this team."
Van Dyke also spoke highly about the show.
"The humanity and honesty of the songs delivers such a layered theatrical experience," he said. "Maltby and Shire have created over a dozen Broadway shows, film, and television scores." In addition, they've received Grammy, Tony, and Academy Awards.
Maltby has worked on shows such as Miss Saigon, Fosse, and Ring of Fire. Meanwhile, Shire's film scores include The Conversation, The Taking of Pelham One, Two, Three, All The President's Men, and parts of Saturday Night Fever.
The duo began working together as Yale University students. Their first Broadway credit together came in 1968. That's when their song "The Girl of the Minute" was a number in the revue New Faces of 1968. Maltby and Shire's shared credits include Baby (1983), Big (1996), and Take Flight (2007).
MNM's production will star Johnbarry Green, Aaron Bower, and Carbonell Award-winners Shelley Keelor, and Elijah Word. All have worked with MNM Theatre Company.
The technical crew, also all MNM alum, includes Eric Alsfordas as the production's Musical Director, and Emily Tarallo as the Choreographer, as well as Lighting Designer Clifford Michael Spulock, Sound Designer Mike Kelly, Scenic Artist Cindi Taylor, and Scenic Designer Jordon Armstrong. Johnbarry Green will serve as Technical Director, Cliff Burgess as Videographer, Michael Joseph as Assistant Videographer, wigs by Tease & Floof Custom Wig Boutique, and Amber Mandic and Andrea Guardo will be the production's co-Stage Managers and co-Props Mistresses.
Closer Than Ever will begin streaming on Nov. 27. The show will be available On Demand through Dec. 31 on Music Theatre International's streaming platform www.ShowTix4U.com via MNM Theatre Company's website www.mnmtheatre.org or on the company's Facebook page www.facebook.com/mnmtheatrecompany.
Once patrons purchase tickets, they will receive a link to view the production. The link will be active for 48 hours from the first click. Tickets are $20. To purchase them, visit https://www.showtix4u.com/event-details/41307.
MNM Theatre Company is an award-winning not-for-profit theatre company. Its mission is to produce high quality professional live theater. Specifically, it produces theater that inspires audiences and enriches the community's cultural life while creating Florida-based jobs in the arts.