Jefferson Mays As Ebenezer Scrooge
Award-Winning Actor To Star in A Christmas Carol
By:
Aaron Krause

-

Oct 29, 2020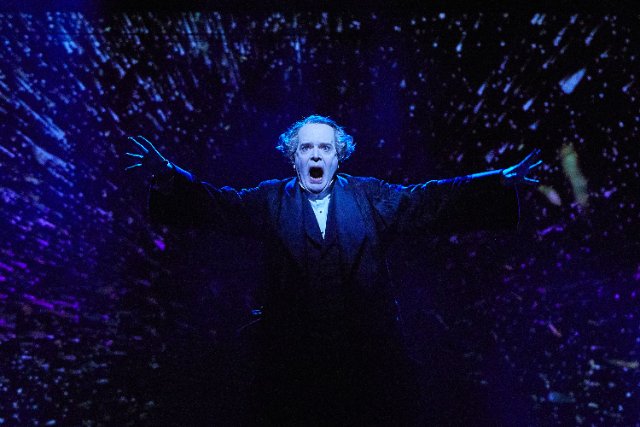 Theater came alive each holiday season in Tony Award-winning actor Jefferson Mays' childhood home. Specifically, each year, his father would read aloud A Christmas Carol "with clarity and humanity," as Mays recalls. Meanwhile, his mother, "eyes ablaze, would transform into the characters, from the tortured Jacob Marley, to little Fan, and the entire Cratchit family.
"Both, in their ways, created magic," Mays said about his parents.
And this holiday season, the actor will bring such magic into people's homes — and, at the same time, help the hard-hit theater community, which the pandemic has devastated.
Mays will star in a special filmed version of Charles Dickens' beloved classic. It is scheduled for release worldwide on Saturday, Nov. 28. Proceeds will benefit community, amateur, and regional theaters across the country. One of those theaters, Actors' Playhouse at the Miracle Theatre in Coral Gables, Fla., together with TBD Pictures, is presenting the production.
"Experience A Christmas Carol unlike any other — past, present, or future," reads a press release. "The timeless tale of Ebenezer Scrooge comes to thrilling new life as Jefferson Mays plays over 50 roles in a virtuosic, master class of a performance" that one must see to believe.
"This theatrical achievement comes from the haunting vision of one of Broadway's most imaginative directors, Michael Arden." He is a two-time Tony Award nominee.
Speaking of Arden, his first live theatrical experience came at age 10. That is when he played Tiny Tim in the Midland (Texas) Community Theatre production of A Christmas Carol.
In addition to directing the soon-to-be-released film version, Arden conceived it along with Tony Award nominee Dane Laffrey. Mays, Susan Lyons, and Arden based this version on a wildly-acclaimed 2018 production. It experienced its world premiere at Los Angeles' Geffen Playhouse.
Jordan Riefe, of "The Hollywood Reporter," called the 2018 production "a stunning adaptation." Also, Anthony Byrnes of KCRW raved about "a tour-de-force performance by Jefferson Mays. It contains "every bit of theater magic you can think of. You'll find yourself transported — hanging on to every word and relishing every last image."
Meanwhile, the "Los Angeles Times'" Charles McNulty raved. "Jefferson Mays not only got me to see A Christmas Carol, something I've vowed never to do again. But he got me to rave about it. For true theater lovers, there can be no better gift this season."
For those unfamiliar with A Christmas Carol, here is a brief synopsis. It's Christmas Eve 1850 in London. The melancholy, miserly Scrooge finds himself alone at home. There, he sees before him Jacob Marley's ghost. Marley, his long-time friend and business partner, died seven years earlier. Marley warns Scrooge that he will repent, even in death, for all the suffering he has caused others, and he has only one chance to escape his fate. Meanwhile, three ghosts are about to transform Scrooge from a bitter man into a benevolent one. During his experience with the ghosts, Scrooge will learn at least one valuable lesson and undergo a transformation.
Like some of the story's characters, this holiday season, people are hurting — physically and financially.
Producer Hunter Arnold said, "Due to COVID-19, the country's theaters have lost over 80 percent of their income, a number that is devastating to our community. These theaters, the work they produce, and the artists and workers they support are a fundamental part of our society. We must fight for their survival."
And Arden said, "In a time when theaters and arts workers across the country are in great need, bringing a story (to life) that celebrates the power of creativity, community, and our shared humanity is humbling."
Tickets to watch this filmed version of A Christmas Carol are available. To purchase them, visit https://www.onthestage.com/show/actors-playhouse/a-christmas-carol-79981/tickets/5f970fb8960c9d00040155b1.