Rachel Siporin at Bowery Gallery
Murals in the Marketplace
By:
Bowery

-

Oct 29, 2022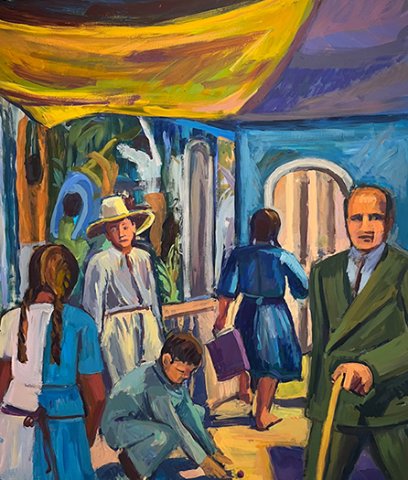 Rachel Siporin at Bowery Gallery
Murals in the Marketplace
November 1 - 26, 2022
Saturday, November 5, 2022, 3:00-6:00 PM
Bowery Gallery is pleased to present Rachel Siporin's exhibition "Murals in the Marketplace", paintings and Intaglio prints. Murals in the Marketplace is Ms. Siporin's third exhibition at the Bowery Gallery. Siporin is a Painter/Printmaker whose work focuses on narrative and observation. She received her BA from Brandeis University, and MFA in Painting from Yale University and is Professor of Art, Emeritus, at Central Connecticut State University, where she taught Painting and Drawing for many years. Rachel Siporin has exhibited widely in Connecticut,New York and Massachusetts. Her exhibitions have been reviewed in Art New England, The Hartford Courant, and The Hartford Advocate.
Rachel Siporin Artist Statement, September 2022
Recently discovered negatives from her father, Mitchell Siporin's trip to Mexico in 1939 provided the inspiration for the paintings and intaglio prints in Murals in the Marketplace. The photographs follow a pilgrimage of Depression-era Federal Arts Project muralists, contemporary Mexican artists, and their companions, as they pay tribute to the great 1920's Mexican murals that inspired and informed their WPA murals
Rachel Siporin describes: "My process begins with sketchbook ink drawings and multiple state etchings and aquatints. As I juxtapose figures, architecture, and landscape, the narrative emerges. Bystanders, incidental tiny actors in the distance, discovered through enlarging the photographs' sections, shape the narrative."The paintings on panel in "Murals in the Marketplace" are executed in Flashe. Siporin is attracted by the quality and range of color of Flashe. The choice of the colored ground in each painting is essential, as it provides the foundation for the color choices in the individual works.
View of works in the exhibition here.
About Bowery Gallery:
Founded in 1969, Bowery Gallery has been showing contemporary art of the highest quality for more than six decades. Bowery Gallery is a cooperative, founded by artists and directed by the collective decision making of its member artists. From its beginnings, Bowery Gallery has been a force for the expansion of art's traditions in a venue unconstrained by commercial pressures. Named after its original location, Bowery Gallery is now located in the heart of the Chelsea art district.
Gallery hours are 11am to 6pm Tuesday through Saturday. For more information, please contact the gallery at 646-230-6655 or info@bowerygallery.org
Mask wearing in the gallery is optional, but encouraged.
Gallery hours are 11am to 6pm Tuesday through Saturday. For more information, please contact the gallery at 646-230-6655 or info@bowerygallery.org