Ric Haynes at HallSpace
Soul Boat Paintings
By:
Hallspace

-

Oct 31, 2021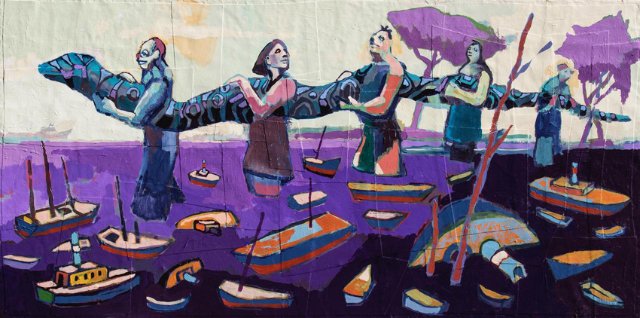 Ric Haynes: Soul Boats
October 30 – December 4, 2021
HallSpace
950 Dorchester Avenue
Dorchester, MA
617 288 2255
Gallery Hours
Friday + Saturday 12-5pm
By Appointment
Monday - Thursday

HallSpace is pleased to present new paintings by Ric Haynes an artist, arts therapist, humanist, and a storyteller. His life has brought him on journeys, both voluntary, and involuntary. Those experiences along with a vivid memory have given Haynes all of the source material he needs to tell his stories.
Whether he is drawing, painting, or talking, we are going to enter the fantastical world of Ric Haynes. If you listen carefully, or look more closely, you will understand how much he loves life. He pokes fun at traditions. He peels away until he gets the story.
Whether he's talking about the amount of peas and carrots in a traditional York, Pennsylvania pot pie, or the lives of Native Americans in Montana, Haynes always connects us to the cultural differences that could make this world a wonderful place to live.

Ric Haynes writes, "At first I may be unaware of what the attraction of my travels is, so I have no option except to explore further. In this way my paintings take me on a quest for final images. ...My recent reading about the artists Hieronymus Bosch and the painter and printmaker, Albrecht Durer, explained how ideas came to them, and how like me, they had to quest for the images that they created. ...For the last two years I have been making paintings about boats and travels of the soul after death. Several years ago I saw an exhibit of models of Egyptian funerary boats at the Museum of Fine Arts, Boston. It is believed that those models depict boats used to transport souls of the departed across a river to their final, eternal destination. In my boat paintings I explore varied subjects on their own respective immense journeys.

Biography
Ric Haynes was born in York, Pennsylvania in 1945.

He attended the Maryland Institute College of Art on a Ford Foundation for four years. At the time the liberal arts became a backbone to his studies, as well of his encounter with Reba Stewart, Robert Moskowitz, Salvatore Scarpitta, Babe Shapiro and Peter Milton.
He studied at The University of Pennsylvania in the Fine Arts Department but later became involved in archival work with the photographic collection of The University Museum at Penn.
Haynes became an Creative Arts therapist after graduating form Lesley University. He worked in mental health with Veterans, Schizophrenics and adolescents. He taught the Arts, Creative Arts Therapy and Film at Endicott College, Beverly, MA for 19 years.
Ric Haynes is represented in many private and public collections including: The Museum of Modern Art, NYC, The Art Institute of Chicago Chicago Il, The Victoria Albert Museum, London, UK.
He lives in Mashpee, on Cape Cod with his wife Lorraine who is a textile artist.

Image
It! 2020, acrylic, collage, 24 x 48 inches