Heisenberg by Simon Stephens
Manhattan Theatre Club Through December 11
By:
Jack Lyons

-

Nov 07, 2016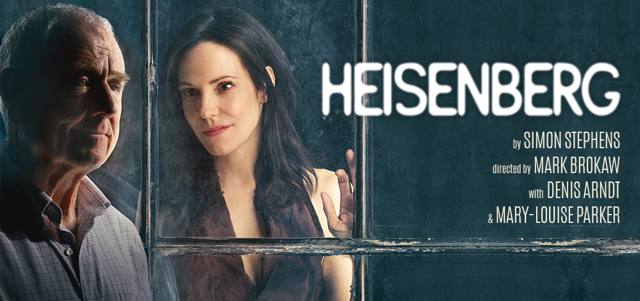 May/December romance stories are few and far between. For starters, storylines are usually predictable or implausible for most of the audience, to say nothing of the seat-squirming anticipation while waiting for that first onstage geriatric kiss – unless we're watching Cary Grant plant one on Eva Marie Saint in the film "North by Northwest", which, when he does it, the act of kissing rises to the level of an art form. Ditto, with Audrey Hepburn in the movie "Charade".
Which brings us to the play "Heisenberg", written by English playwright Simon Stephens, produced by the Manhattan Theatre Club (MTC) at the Samuel J. Friedman theatre, in NYC and smartly directed by Mark Brokaw.
In his seventieth decade, Irish actor Denis Arndt, a trim, fit, and much younger looking than his character age, stars as Alex Priest, a 75 year-old retired English butcher. Arndt, is making his Broadway stage debut with this production (I simply cannot believe this fabulous actor hasn't starred on a Broadway stage before this) and, in the bargain, gets to woo Mary-Louise Parker, who plays Georgie Burns. Parker, is one of the sexiest, intelligent, fearless and exciting actors working in theatre, movies and television today. Lucky devil.
Georgie Burns is an aggressive, loud, conflicted American soul, with the vocabulary of a testy stevedore. She is the type of person who needs to talk… to anyone. As the play opens, Georgie spots Alex sitting alone on a seat in a London train station and slowly walks up to him and plants a gentle kiss on his neck, then quickly walks away, but then decides to come back and explain herself.
Alex, is a retired, reserved, widower on his way home. He's mildly surprised by Georgie's action but doesn't freak-out. He has no agenda other to be left alone. No latent hormone rush is present. And they begin to talk. He sizes her up as one of those 'force of nature' American women who are so confident that they will approach anyone for the opportunity to engage in conversation, even with strangers. She finds him intriguing and worth more than just a brief encounter (with apologies to Noel Coward).
It's a very talky play. The onstage scenes becomes a series of actions (her) and reactions (him) as to whether they should begin a relationship. Then the physical attraction for their budding May/December romance which now spans a couple of months – interspersed with separations – and the need for one another kicks in, making the premise become more plausible. Besides, Georgie has a sweet tooth for older men. After all Sinatra was thirty years older than Mia Farrow, and Ari Onassis was twenty-three years older than Jackie Kennedy, so it's not that unusual. The only component missing in this May/December relationship is the lack of really big money or family fortunes.
Playwright Stephens and director Brokaw weave an engaging obbligato of nicely nuanced, performances by two terrifically talented stars who know how to draw the audience into their small, compelling story and make it sing. The onstage chemistry between Parker and Arndt is palpable. There is an old show biz axiom that says if you buy the premise, you'll buy the bit. I bought the bit. The opening is a tad slow and the ending is ambiguous by design, but in between – ah, that's where the magic happens.
"Heisenberg" is a light rom-com. The only big issue, other than their age disparity is how strongly people have a need for companionship, and closeness to prove their humanity and the raison d'etre for being on the planet in the first place. Georgie and Alex have past lives that are not similar. How they resolve their differences lies in the nuanced performances of Parker and Arndt which are compelling and poignant at times. There is a lot of introspection, time to ponder the 'what if choices' for each and for the audience as well.
One thing the audience needn't ponder is the meaning of the title, which seems disconnected from the play's theme. According to program notes, German scientist Werner Heisenberg, the founder of quantum mechanics, posited a theory of "uncertain principle". Playwright Stephens may have been drawing a comparison to the uncertainty of human relationships – or not.
Mark Wendland's scenic design renders an almost bare stage with two tables and two chairs which are moved about by the actors. Costume design by Michael Krass is present day garb, and the lighting design is by Austin R. Smith with Sound design by David Van Tieghem.
"Heisenberg" is performed without an intermission (approximately 84 minutes) on the Samuel J. Friedman stage and runs through December 11, 2016.
Reposted courtesy of Jack Lyons and Desert Local News.