National Aviary in Pittsburgh
Birds of a Feather
By:
Susan Cohn

-

Nov 08, 2015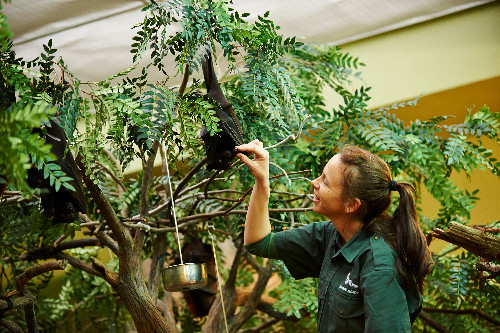 WHERE BIRDS NEST AND BATS HANG: THE NATIONAL AVIARY IN PITTSBURGH, PENNSYLVANIA
They are Malayan Flying Foxes, a species of megabat. Flying Foxes are fruit bats and important pollinators and seed dispersers in the tropical forests of Southeast Asia.
The National Aviary acquired the colony of six female Flying Foxes in 2013 from the Lubee Bat Conservancy in Florida. Their arrival to the National Aviary corresponded with the opening of the Canary's Call exhibit, which portrays the ways in which birds act as indicators of environmental change. In their exhibit, bats and birds are living together to demonstrate the rich biodiversity of our planet.
A quote from one of our volunteers who frequently works in Canary's Call:
A long time Aviary volunteer said, "When guests visit the National Aviary's Malayan Flying Fox exhibit, they are intrigued and curious to learn about bats. There is a lot of misinformation and folklore surrounding bats, so visitors are often surprised by what they learn during the daily feedings. While visitors watch the bats eat, our trainers talk about how bats care for their young, why they hang upside down, and the importance of megabats in the environment. They leave the exhibit with a better understanding and appreciation for this important species."
The National Aviary is America's only independent indoor nonprofit zoo dedicated exclusively to birds. Located in West Park on Pittsburgh's historic North Side, the National Aviary's diverse collection comprises more than 500 birds representing more than 150 species from around the world, many of them threatened or endangered in the wild.
Its large walk-through exhibits create an experience unlike any other – an intimate, up-close interaction between visitors and free-flying birds, including opportunities to hand-feed and meet many species rarely found in zoos anywhere else in the world.
As an environmental organization composed of educators, conservationists and researchers, the National Aviary's goals are many. The Aviary aims to provide outstanding education programming for varied audiences; present the highest quality family recreational experience that a zoological institution can offer; save endangered species by preserving natural habitats; continue endangered bird breeding programs and conduct meaningful avian research; engender a sincere appreciation of nature and a respect for natural law; and instill a conservation ethic that teaches our immense responsibility as stewards of the planet.
The aviary is home to over 600 animals representing about 200 species, and is a member of the Association of Zoos and Aquariums (AZA).
The National Aviary is located at 700 Arch Street on Pittsburgh's Northside, within Allegheny Commons West Park in the Allegheny Center neighborhood.
The National Aviary is open daily except Thanksgiving Day, Christmas Eve, and Christmas. Although some of the birds must be fed in private, almost all feedings (both vegetarian and carnivorous) are scheduled to be viewable by visitors. Since 1999, annual attendance has consistently topped 100,000.
The National Aviary has daily interactive experiences for visitors. Some of these include Penguin Point, a new exhibit featuring 11 African penguins and underwater viewing; Penguin Connection, a private encounter with an African penguin (for an additional fee); Little Peepers, a program for preschoolers; and the bird-feeding adventure Lories & Friends. These programs are joined by various trainer talks, bird presentations, feedings, and encounters that help to create an immersive experience for visitors.
The theater is currently home to "Wings!," an indoor-avian adventure featuring flighted birds and special effects. The Helen M. Schmidt Theater is the first indoor theater in the nation built specifically for bird shows. The aviary also began outdoor shows (weather permitting) from its new Sky Deck, featuring live flight demonstrations of eagles, falcons and kites out over West Park.[
The aviary is home to more than 500 birds of more than 150 species, many of which are threatened or endangered in the wild. It has one of the most diverse collections in North America (exceeding, for example, the National Zoo in Washington, D.C. and the Niagara Falls Aviary).
As a result, the aviary has many species that are rarely found in other zoos or aviaries, for example, green-backed trogon, scarlet-headed blackbird, and blue-winged mountain tanager.
Among the most popular residents are Benito the hyacinth macaw and his roommate, Killer the green-winged macaw. Both are trained, and perform at occasional educational exhibitions. The aviary has also had success in breeding; its spectacled owls had their first chick, named Franklin (after Benjamin Franklin), who hatched in September 2006. Franklin can be seen in one of the aviary's exhibits.
The National Aviary also takes part in breeding programs designed to increase the numbers of endangered birds in captivity including the Bali mynah (nearly extinct in the wild), the Micronesian kingfisher, and the African penguin. Its first two African penguin chicks hatched in February 2012. On March 13, 2013, the aviary celebrated another success of its breeding program, when a female Eurasian owlethatched, and within five days, doubled in size.
GET NOSE TO BEAK WITH YOUR FAVORITE BIRD

The Aviary offers daily close up encounters with penguins, owls, flamingo and birds of prey.
TAKE A PEEK AT BEAKS.
Bird beaks vary in size, shape and color, and while their most well-known use is for eating, beaks are also one of a bird's most versatile features. A 20-minute live bird show highlights some what beaks can do. Or, get a close look at rainbow lorikeets by entering their enclosure bearing a cup of nectar. Attired in a striking color combination of emerald green, orange, midnight blue, ruby red, and lemon yellow, the lories, as they are affectionately known, happily land on outstretched hands to drink.
BIRDS DOCS ON CALL

A toucan with a chipped beak. A flamingo with a sore leg. A songbird that's just not up to singing. Find out what it takes to address the round-the-clock health needs of more than 200 species of birds.
Chips and breaks to the beak are a common injury in birds. In the wild, a damaged beak can mean that a bird will be unable to eat or hunt, but at the National Aviary, a quick response from the medical team means that in short order the injured bird is not only eating comfortably, but also looking good in front of his friends.

Beak repairs are made using a specialized process that incorporates the same dental acrylics used for human teeth. At the National Aviary, our veterinary hospital staff go a step further by mixing pigments with the acrylic to match the color of the beak so that the repaired area is not obvious. If the damage is too severe to be corrected with acrylic, then bridges or even prosthetic beaks are made.
The National Aviary is located at 700 Arch St. on Pittsburgh's historic North Side, just minutes from downtown Pittsburgh. Atria's Kookaburra Kitchen provides a wide variety of dining options for National Aviary visitors. From home-made soups and fresh salads to daily specials and sandwiches,
Susan Cohn is a member of the North American Travel Journalists Association, Bay Area Travel Writers, and the International Food, Wine & Travel Writers Association. She can be reached at susan@smdailyjournal.com. More of her stories may be found at http://ifwtwa.org/author/susan-cohn.