Thousand Pines, at Westport Country Playhouse
World Premiere by Matthew Greene
By:
Karen Isaacs

-

Nov 10, 2018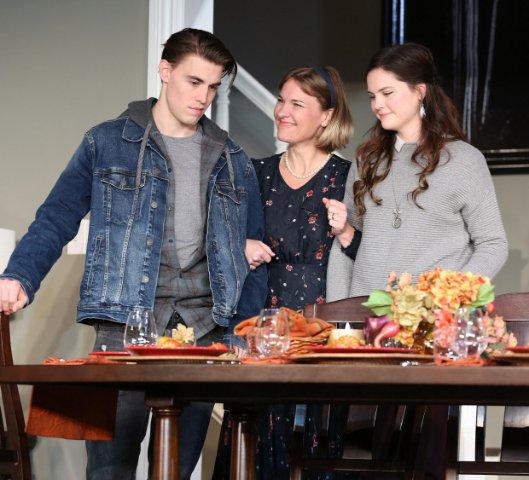 I can't stop thinking about and praising the world premiere play, Thousand Pines, at Westport Country Playhouse through Saturday, Nov. 17.
Playwright Matthew Greene and director Austin Pendleton have taken a subject that can be emotionally devastating and created a thoughtful and insightful study of how individuals and communities cope with unimaginable tragedy.
The play consists of three scenes with three different families in the same town and all on the same Thanksgiving Day. Six fine actors work as a well-oiled ensemble to create a variety of individuals so well that sometimes it takes a minute to realize who they played in an earlier scene.
This is first Thanksgiving following a shooting six months earlier at a middle school in town. Each of the scenes focuses on a different family who lost a son in the shooting.
You might think that this would be a tear-jerker. Greene and Pendleton haven't minimized the horror but have kept the emotions under control.
It is an examination of how individuals grieve and how it affects family and community relationships. Research has shown that many couples whose child dies will divorce; the still living siblings are apt to suffer from a variety of psychological issues from guilt of survival to resentment of the family's concentration on the dead child.
In the three scenes, each about 25 minutes in length, we see the entire range of options and of families.
In the first scene the mother is preparing to host Thanksgiving dinner, having invited her sister and husband, her late husband's brother and her older son's fiancée. When the son (Justin) arrives, he is angry that things are happening as usual; he thought he and his mother had agreed to "keep it simple" this year. Yet underneath the perky mother (played by Kelly McAndrew), is someone unable to truly accept the tragedy. Andrew Veenstra is excellent as Justin.
We move to another family; in this case the father sits passively in a chair wanting to eat, while the child's stepmother (Sophie) is fixated on a law suit that they and some other parents have filed because "someone must be held responsible." She is determined that other parents who are neighbors will give dispositions as will Deborah, a school teacher at the school, who is also a guest for dinner. An added guest is Oliver, Sophie's ex-husband and the lead lawyer on the case. Even he is astonished at Sophie's single-mindedness. Their daughter, Gretchen is also present, hoping for a traditional family meal only to find it so focused on the lawsuit that the meal becomes a minor distraction. She also resents Sophie's late blooming maternal instincts that she never saw while growing up.
The third scene involves a single mom (Rita) who has invited her brother (Kyle) to dinner but he shows up in handcuffs with a police officer having punched a man at the grocery store. Also flitting around are two women (Evelyn and Tori) who volunteered to help her; though she really doesn't want the help which she recognizes as survivor guilt. Later in the scene, a young man, perhaps a college student arrives bringing food and he and Kyle discuss the tragedy.
Each of the actors does a terrific job. Kelly McAndrews plays all three moms but they are so different and Andrew Veenstra is moving as the young men who are in the first and third scenes. This isn't to slight William Ragsdale (Martin, Oliver and Frank) or Joby Earle (Charlie, Warren and Kyle) nor Anne Bates (Beth, Debbie and Evelyn) and Kate Ailion (Ashley, Gretchen, Tori).
Walt Spangler has created an upper middle class dining room which contains both elements of colonial style and more contemporary design. Ryan Rumery handled both the sound design and composed music for the show.
I found this moving and fascinating. As the playwright said, "to be honest, I'd love for this play to stop being 'relevant.'"
Yes, it is a difficult subject but it is handled with such care by all involved that it is well worth seeing.
For tickets visit Westport Playhouse or call 203-227-4177.
Posted courtesy of Two on the Aisle.