Sovereignty & Indigenous Curation Panel
Art, Culture, and Technology Program at MIT
By:
ACT

-

Nov 13, 2021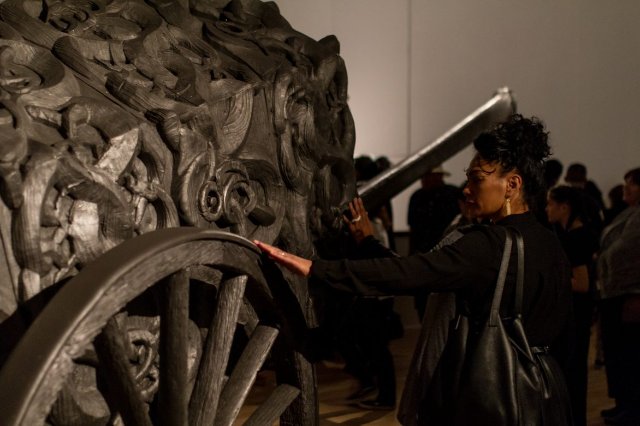 Sovereignty & Indigenous Curation Panel
Monday, November 15 at 6pm
Virtual Event
Watch Here
Senior Curator at the First Americans Museum in Oklahoma City, Oklahoma
Associate Curator of Native American art at the Metropolitan Museum of Art
T?tai Taura | Principal Advisor at Toi M?ori Aotearoa – M?ori Arts New Zealand
Our panel discussion will consider ways in which the practice of Indigenous curation enacts sovereignty. We will address the various challenges of doing Indigenous curation within and, at times, against art institutions. Our discussion will take into account the difficulties of collaborating across various differences—cultural, disciplinary, educational, etc.—that are specific to exhibiting Indigenous arts. In these instances, Indigenous curators rely on diplomatic strategies based on Indigenous protocols of engagement. These protocols also guide an approach to their research that rigorously attends to the genealogy of Indigenous knowledge production, a higher standard of citation than that followed in the West. Ultimately, the conversation will highlight the necessity of Indigenous curators for curating Indigenous arts.
Erin Genia (Sisseton-Wahpeton Oyate/Odawa), a multidisciplinary artist, educator, community organizer, and ACT alumna, will be the respondent for our session.
This panel discussion will include short presentations followed by a moderated discussion with ACT Lecturer Mario Caro, and an open Q+A.
About the Panelists:
heather ahtone
heather ahtone is the senior curator at the First Americans Museum in downtown Oklahoma City. She is a proud citizen of the Chickasaw Nation and is of both Chickasaw and Choctaw descent.
The Fred Jones Jr. Museum of Art named Ahtone the James T. Bialac Assistant Curator of Native American and Non-Western Art in 2012. She served for more than six years in this role and completed her doctoral degree in Interdisciplinary Studies at the University of Oklahoma. In March 2018, the American Indian Cultural Center Foundation appointed her as senior curator of the American Indian Cultural Center and Museum in Oklahoma City.
Patricia Norby
Patricia Marroquin Norby is an art curator and historian of Purépecha descent. She earned her Ph.D. in American Studies from the University of Minnesota-Twin Cities. Her thesis explored the involvement of Pueblo Indians in fine art production, industrial agriculture, and nuclear power production, highlighting interconnections between these three industries that are visually and materially present in American Indian and American art of this region and time period. She also completed an MFA in printmaking and photography from the University of Wisconsin-Madison. Last year, she was appointed as the first-ever Associate Curator of Native American Art at the Metropolitan Museum.
Anna-Marie White
Anna-Marie White is a researcher, writer, curator and Strategic Advisor to Toi M?ori Aotearoa: M?ori Arts New Zealand.
Urgent, Critical, and Experimental Explorations Across Art-Culture-Technology
The Fall 2021 programming aims to revisit the foundational parameters of the Art, Culture, and Technology Program, positioning ACT within the context of a changing world and its future challenges. By articulating key thematic avenues and methodological approaches that intersect the work of invited artists and ACT faculty members, we link these inquiries to concerns of other researchers at MIT and beyond. The programming falls into two categories: artist talks and panels.