Giuliano at Williams Faculty Club on November 19
To Discuss Museum of Fine Arts Boston, 1870 to 2020: An Oral History
By:
Charles Giuliano

-

Nov 15, 2021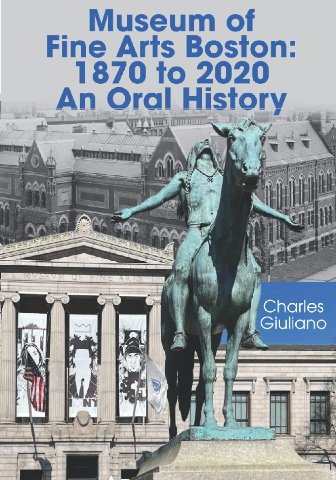 Charles Giuliano reading
From: Museum of Fine Arts Boston, 1870 to 2020: An Oral History
Williams Faculty Club
968 Main Street, Williamstown Ma 01267
(Parallel to 62 Center Theatre)
Friday, November 19, 7 PM
Masks and proof of vaccination required
"Fascinating. A major contribution. Truly."
Matthew Teitelbaum, director, Museum of Fine Arts Boston
Charles Giuliano is a critic, publisher/ editor of the online Berkshire Fine Arts, the author of numerous exhibition catalogues and seven books.
The most recent one, which he will discuss at the Williams Faculty Club on November 19 at 7 PM, is Museum of Fine Arts Boston, 1870 to 2020: An Oral History.
The book culminates a career of covering the fine arts in Boston and the MFA since the 1960s.

His relationship with the museum started with a first visit as a youngster in 1949. After graduation from Brandeis University in 1963, that fall he started as a conservation intern in the Department of Egyptian Art. That continued for the next two and a half years.
Later, as an art critic starting in 1968 he knew and interviewed every director from Perry T. Rathbone to the current director Matthew Teitelbaum. The book also includes interviews with trustees, administrators, curators, art historians and critics.
Both founded in 1870 the MFA and Metropolitan Museum of Art are regarded as America's foremost and only encyclopedic museums.
In aspects of its collection the MFA is second to none both nationally and globally. These include Asian art, Old Kingdom Egyptian and Nubian art, Classical Greek and Roman, American painting and decorative art through 1900, prints, drawings and photography. The MFA holds its own with European painting and decorative art with strength in French impressionism and post impressionism.
The morality of owning national treasures of other nations was addressed with Dr. Jan Fontein, then director and former curator of the Asiatic Department.
Where the MFA failed is in modern and contemporary art. It appointed a contemporary curator in 1970 with a narrow focus on formalism and color field painting. The Jewish Boston Expressionists and Boston artists in general were neglected until recently.
The book explores decades of internal strife and a revolving door of directors starting with the ouster of Rathbone resulting from the "Raphael Incident."
In their own words, between the lines Giuliano reveals a legacy of elitism, anti-Semitism, and racism. These issues have exploded for the MFA, as well as all cultural institutions, in light of the Me Too and Black Lives Matter movements. Under Teitelbaum the museum is moving aggressively to address these issues.

https://giulianobooks.com/