Shaw's Mrs. Warren's Profession
Ginglold Group at Theatre Row on 42nd Street.
By:
Karen Isaacs

-

Nov 17, 2021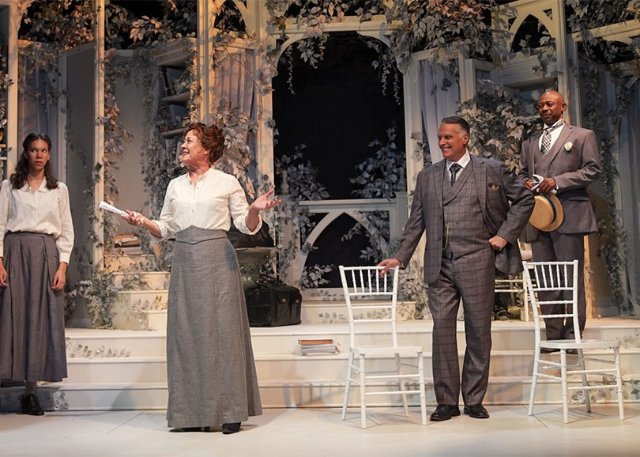 I love George Bernard Shaw's plays and Mrs. Warren's Profession is one of my top five. Currrently through Saturday, Nov. 20, the Ginglold Group is presenting a fine production off-Broadway at Theatre Row on 42nd Street.
Director David Staller has pared the play slightly; it runs just over 100 minutes with no intermission. Yet it has been done so skillfully, that you don't notice anything missing.
The story concerns Mrs. Warren and her daughter Vivie. Mrs. Warren grew up in poverty and, with her sister, took the only way available to them to not just survive but to prosper. The "profession" is one that when the play was written, was scandalous. In the play it is only alluded to that Mrs. Warren (the Mrs. is purely fictional), was a prostitute and later manager of bordellos).
But her money has paid for Vivie's Cambridge education and the young woman is determined to make her way in the world. She too wants to make money and has no interest in romance or marriage.
The two have seldom spent time together so when Mrs. Warren and two friends – Sir George Crofts and Praed arrive at the country place where Vivie is staying, fireworks are bound to go off.
Mrs. Warren wants Vivie to be a conventional young upper-class woman while Vivie is determined to be what Shaw would call "the new woman" – independent and self-sufficient. No daydreams or fantasies of romance for her. She is actually very much like her mother.
Around these two strong women are four men. Sir George (beautifully played by Robert Cuccioli) is Mrs. Warren's business partner and he finds Vivie enticing. He tries to show her the practicality of a union between them with her inheriting his wealth. Praed is Mrs. Warren's friend and sometime confidant. Alvin Keith gives him the artistic and slightly "arch" rendering the character deserves.
Then there is Frank Gardner (David Lee Huynh) who is wooing Vivie. He admits he is after her money; like many of Shaw's younger male characters, (Freddy Eynsford Hill, in Pygmalian, for example), Frank is weak, lacks ambition, and seems only fit for a life of leisure and endless debts. For some reason Vivie keeps him around as almost a plaything. His father, the Rev. Samuel Gardner (Raphael Nash Thompson) doesn't know what to do with him.
The funniest complication is that Mrs. Warren has steadfastly refused to reveal who is Vivie's father; so there is the possibility that it could be Sir George or even the Rev. Samuel, who wasn't always a man of the cloth.
Any production of the show depends on the two actresses playing Vivie and Mrs. Warren. Here Staller has chosen well. Karen Ziemba is a Mrs. Warren who has not taken on airs. She both remembers her lowly roots and enjoys her current success. She doesn't pretend to be high class. When Ziemba espouses what Shaw would call "middle class values" of hard work and thriftiness, it is totally believable. As her daughter, Vivie, Nicole King's very posture (erect) helps us understand the character. She is determined, but like many young people tends to see things in black and white and is very sure of her views.
The other aspects of the production are fine from the incidental music to the scenic design by Brian Prather of a small, overgrown garden and the costume design by Asa Benally. In fact, overall the production values are excellent. I loved the subtle humor of the music played during the curtain call.
This production of Mrs. Warren's Profession is a delight. Tickets are at GingoldGroup.org