MASS MOCA Schedule
Winter To Spring
By:
MOCA

-

Nov 17, 2022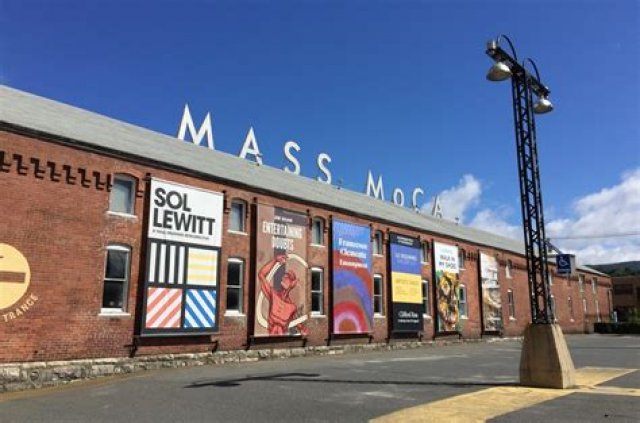 January
Member Celebration: Raise a glass to artists kelli rae adams, Yto Barrada, Jason Moran, Richard Nielsen, and Amy Yoes.
Kaleta & Super Yamba Band: Afro-funk dance party up in the club
Shadow: Film screening with a Q&A from the acclaimed Back to Back Theatre
Free Day: Come by and get inspired, on the house.
Artist Workshops: Free financial and business training for MA, RI, and CT artists.

February
La Seca: Armando Guadalupe Cortés and composer/DJ M. Elijah Sueuga collaborate on a performance in Cortés' installation.
Love from Vicki Island: Daniel Giordano's provocative and playful masks and assemblages
Broadway en Spanglish: Florencia Cuenca & Jaime Lozano perform iconic tunes
Akoma: Vanguard electronic musician Jlin and visual artist Florence To make magic
aún los gallos lloran: Armando and Juvenal Cortés activate the stage and objects in the installation Castillos
Open Studios: See what The Studios residents are creating each month

March
Member Appreciation Month: thanking our members with discounts, special events, and more!
In Conversation: Marc Swanson, Maggie Nelson, Susannah Sayler, and Edward Morris chat about climate change and morning.
Eight Elements in Eight Hours: A site-specific durational dance work set in the galleries.
MASS MoCA After Hours: A late night at the museum every month this spring.
Sphinx: A suite of new works by artist Carrie Schneider.
to see oneself at a distance: a group exhibition complicating the romanticization of revolutionary moments.
Old Man and the Sea: A work-in-progress preview of Paola Prestini's new opera featuring Helga Davis

April
In Conversation: Artist Carrie Schneider and feminist film theorist Laura Mulvey discuss their work.
Teen Invitational: Our annual pop-up exhibition celebrating the creativity of local high school students and their mentors.
International Slow Art Day: Slow-looking tours and chilled-out fun for all ages.
Urban Bush Women: The renowned dance company returns with Haint Blu, a site-responsive performance that moves throughout the campus.

MASS MoCA Members Pre-Sale: RIGHT NOW!
General Public On-Sale: Thursday, November 17, 12pm

Not yet a member? Become one here.