Judith Lorick CD Release
The Regatta Bar, Cambridge
By:
Doug Hall

-

Nov 22, 2018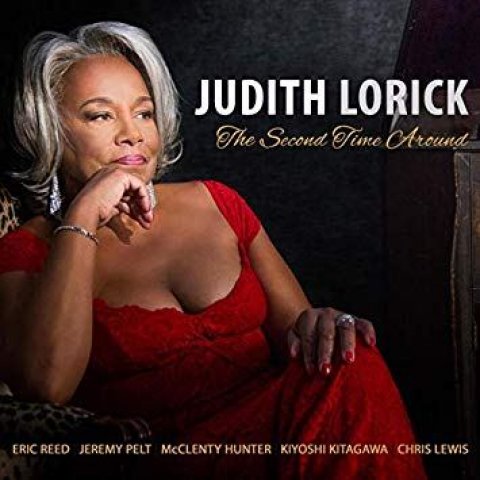 Sometimes a story in a song can be a direct reflection of the artist's life experience. Jazz vocalist Judith Lorick can tell her story through a series of jazz standards, both heart-breaking and with redemption for a first love that was lost and then found again. For her CD release party at the Regatta Bar in Cambridge, she shared her soul, thoughts and beautiful voice, as she chose top-drawer selections from her 2018 release, The Second Time Around (JLJ, 2018).
With the gift of elegance on stage, and both a serene tone and sudden power in delivery of her voice, Lorick filled traditional standards of jazz with rich textures including interpretations of "U.M.M.G." by Billy Strayhorn, "Why Did I Choose You" by Michael Leonard, "Lucky To Be Me" by Leonard Bernstein, and "I'm Going to Laugh You Right Out Of My Life" by Nat King Cole. Making them her own in phrasing, she was accompanied by seasoned pianist, composer and arranger Eric Reed and his quartet. Reed gets credit for mixing and arranging this intimate set. Veteran sessions players would also bring the backbone to this evening's performance including Jeremy Pelt on trumpet and McClenty Hunter on drums.
Lorick shared her own poignant story-line which gave her the idea for the 2018 release The Second Time Around. In the 1960's, graduating from Swarthmore College, she was to fall in love "at first sight" with her future husband, who would then suddenly disappear into the Vietnam War just four months later. Returning with PTSD (Post Traumatic Stress Disorder) her husband, before today's treatments and recognition of this condition was standard, "came back a year later a broken man." Unable to maintain a relationship, her husband "disappeared" from her life physically and emotionally.
Fighting the heartfelt sorrow and loss of a once-loving partner in her life and questioning her future, Lorick left for France which became her home, as she had "always felt welcome" while travelling through Europe. Her friends abroad didn't let her sit long as she was put on stage with steady engagements during the French Rivera's summer seasons and other nightclub opportunities. Lorick was to embark on a decade plus of self-discovery in music, dancing and choreography, an exploratory time in her life abroad, whereby, in her own words, "I simply didn't want to regret not doing something."
Then fate of coincidence would connect her musically again in the mid 1990s with meeting pianist, composer and arranger Eric Reed, fresh out of the Wynton Marsalis Septet. An intense connection occurred when they played together the first time on "You Don't Know What Love Is." As Lorick recalls "It was a magical experience. There was such spiritual symbiosis; quickly we found we were breathing together."
The second string of this coincidence brought her back together again with her husband, who was now treating and supporting soldiers with PTSD, "also as a way back for his own condition." And as Reed was pushing for a recording opportunity, Lorick, (who had only released one prior recording, Songs for My Mother, in France, 1998) was ready and motivated to re-launch a career again in the U.S. Fred Taylor, the legendary Boston-based jazz promoter was to be another catalyst, instrumental in helping promote bookings and this recording opportunity.

The evening CD release performance of The Second Time Around at the Regatta Bar in Cambridge showcased a Lorick re-vitalized and ever passionate about hard-won opportunities to be recording, touring and back on stage again in her later life. A clear chemistry existed that night between Lorick, Reed and his quartet. It was an evening of wonderful jazz standards, well worth "a second time around."