American Son by Christopher Demos-Brown
Kerry Washington and Steve Pasquale Star
By:
Karen Isaacs

-

Nov 25, 2018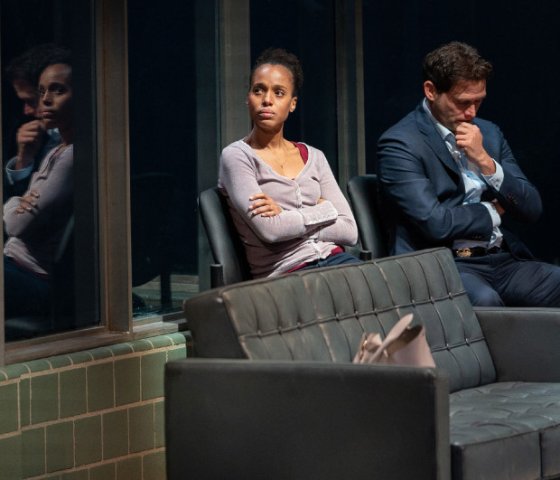 Every parent has a nightmare about something bad happening to his or her child. As that child becomes a teenager, the nightmares often become more frequent. Drugs, car accidents, runaways, alcohol, sexual assault – so many things can derail hopeful young lives. So many possibilities can go through the mind.
In the searing new drama American Son, Kendra's nightmares are influenced by her childhood in a violent neighborhood. She may now be a professor of psychology, but the nightmares remain. They are stronger because her son, Jamal is a 17-year-old black teenager in Miami.
When they argue and Jamal goes off in his car, (a used BMW) and doesn't come home, his mother goes to the police station to report him missing at 4 a.m. Calls to the cell phone have gone unanswered and texts have had no replies. Jamal has been brought up in an affluent atmosphere, attending private schools, accepted at West Point; he has learned to be well spoken and polite.
What happened to this polite, young man headed for West Point?
That is how the stunning new play, American Son begins. A rainy night with thunder and lightning and her sitting alone in a police station lounge.
Officer Paul Larkin doesn't have any answers. Apparently he's new, but tries to help despite the fact that he should wait for the duty officer to come in which will not be until the morning. What he initially learns is that there has been an "incident" involving the car. No other details but he tries to assure Kendra that that terminology is usually used for minor things such as broken tail light, failing to stop at a stop sign, or some such.
But Kendra is not mollified and becomes more and more frantic, to the point that when Scott arrives and Larkin assumes he is the duty officer, he makes comments about her being "out of control." To his surprise, but not mine, Scott is Kendra's estranged husband and father of Jamal. He is white and also a FBI agent.
The tension builds as they wait. The tensions between them: why he left six months earlier. Jamal's recent behavior. He has recently started wearing "street" clothes, dreadlocks, and has some new friends. Her tendency to see the world in black vs. white terms. She seems militant and strident. He seems almost clueless. Jamal has rebelled at being a representative of his race to his almost all white classmates.
As the early morning hours progress, the tensions continue to build. Scott's brother who works at a local TV station sends them a link to a video and asks if that is Jamal's car.
The arrival of the duty officer, Lieutenant John Starks doesn't seem to help at all. A long time officer and a black man, he seems to have little empathy for the frantic parents whose emotions are out of control. In fact, he arrests Scott and tells Kendra to basically "shut up and site down."
The play does have some stretches of credibility – why do the police have her wait in a private area? Why does the station seems so understaffed and quiet in a city? Why would the newbie officer Larkin not get a more experienced officer to assist him? Why is there no watch commander or supervisor on duty? Wouldn't officers be more accommodating to Scott, an FBI agent? Wouldn't he have sources he could contact?
Yet, because of the fine performances, while you are watching this you don't really think of these.
Kerry Washington as Kendra gives a portrait of the frantic mother who is also very aware of the realities of our urban society. Steve Pasquale as Scott is her equal as he becomes more and more agitated. In their disagreements, Scott wonders why Kendra allowed Jamal to have a particular bumper sticker on his car, and she justifies it as "picking her battles" with her rebellious son.
Jeremy Jordan makes the new officer by turns helpful and poorly trained. As Stokes, Eugene Lee has the least sympathetic role; he gives us a hardened officer who has seen too much in his years on the force and in all likelihood experienced too much racism himself. He seems almost resentful of the upper-middle class Kendra and Scott.
Kenny Leon, credited with many August Wilson plays, has done a fine job directing this. His direction and the acting covers up some of the questions with the plot. The play is written by Christopher Demos-Brown making his Broadway debut.
Adding to the effectiveness is the spare waiting area designed by Derek McLane, the torrential rain (with thunder) created by Peter Kaczoroski and the sound by Peter Fitzgerald.
American Son is a drama that will totally absorb you and break your heart. That it is set "this coming June" makes it clear that this problem in our society will not go away soon.
It is at the Booth Theatre, 222 W. 45th Street though January 27. Tickets are available through Telecharge. Posted courtesy of Two on the Aisle.