Christmas Theatre In NY and Connecticut
Family Holiday Fun
By:
Karen Isaacs

-

Nov 27, 2022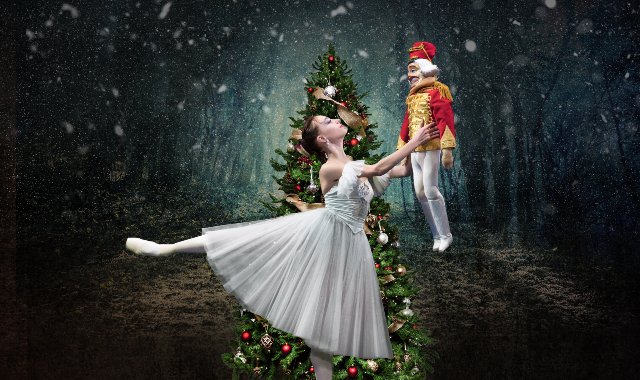 Connecticut theater-goers have some new choices for holiday theater, concerts and dance, beyond the usual mixture of A Christmas Carol, It's a Wonderful Life and The Nutcracker.
Goodspeed has a brand-new musical, Christmas in Connecticut, based on the film of the same name. The 1945 rom-com film that starred Barbara Stanwyck isn't one of the Hollywood Christmas films most people remember, though it was a box office hit.
The heroine, Liz Lane is a well-known expert on marriage, cooking and homemaking. When she's asked to prepare a Christmas dinner for a WWII hero, there are just a few problems: she can't cook, she isn't married and she doesn't live in Connecticut. Her attempt to live up to her publicity causes near catastrophes and almost marrying the wrong man. The music is by Jason Howland with lyrics by Amanda Yesnowitz. It runs through Thursday, Dec. 30. For tickets visit Goodspeed.org.
Goodspeed offers special events and special offers. One is a package for Friday night tickets that includes dinner at the Gelston House; others offer discounts for specific performances for teens and those under 40. The open caption performance is Friday, Dec. 8. All of these and others are listed on their website or you can call 800-873-8668.
The Essex Hardware Store is the setting for the holiday show at Ivoryton Playhouse. The girl singing group, The Wonderettes are back with The Winter Wonderettes. It is 1968 and it's the annual holiday party at Essex Hardware. The girls – Missy, Suzy, Betty Jean and Cindy Lou are prepared to offer holiday entertainment. You'll hear all your holiday favorite songs from "Run, Rudolph, Run" and "Jingle Bell Rock" to the older "Santa Claus Is Comin' to Town," "Winter Wonderland" and more. There's even references to the history of the store, plus laughs and some audience participation. It runs through Sunday, Dec. 18. For tickets visit IvorytonPlayhouse.org.
You'll want to see Christmas on the Rocks at TheaterWorks Hartford, even if you've seen it before. Why? Two new stories have been added to this evening of short scenes about the adult lives of children we know from holiday movies, TV and cartoons. While we will no longer see Tiny Tim as an adult, we will find out what happens to The Little Drummer Boy and Elf on the Shelf. Comedian Judy Gold has joined the group of writers, most of whom are well-known playwrights. Jen Cody returns to play the female characters; Ted Lange is back as the bartender and Harry Bouvy who was in the original production ten years ago, returns as the male characters. The show runs Thursday, Dec. 1 to Friday, Dec. 23. For tickets visit twHartford.org.
If you want your A Christmas Carol fix, the Legacy Theatre in Branford is bringing back their adaptation that opened last year. Once again it stars James Andreassi who many local theatergoers know from the Elm Shakespeare Company. It runs from Thursday, Nov. 30 through Sunday, Dec. 11. Last year the show sold out. For tickets visit LegacyTheatreCT.org.
Hartford Stage's production of It's a Wonderful Life: A Live Radio Play last year was such a success that it is back again. It enacts the classic 1946 film (which was surprisingly not a big hit at the time) as a radio play, with actors playing multiple roles and sound effects helping to set the scene. As Artistic Director Melia Bensussen wrote to subscribers, "The themes behind this story have always spoken to me: that we never know how our individual actions impact the world around us, and we underestimate how much each of us needs to be a part of a caring community."
It runs from Friday, Nov. 25 through Saturday, December 24. For tickets visit HartfordStage.org.
A special sensory friendly performance is on Saturday, Dec. 3 at 2. Sensory-friendly productions modify the theater experience so that it is comfortable for people on the autism spectrum or who have other sensory sensitivities. A mask-required performance is on Saturday, Dec. 3 at 7:30. Hartford stage offers an open-captioned performance for hearing-impaired audiences on Sunday, Dec. 11and an audio-described performance for visually impaired audiences on Saturday, Dec. 17.
If the holidays mean thinking about the goodness of people and of hope, then Come From Away, the award-winning Broadway musical certainly qualifies. It's based on the true story of how the people of Gander, Newfoundland came together to house and support thousands of airline passengers stranded there on Sept.11 as US air space was shut down. The show makes a return visit to the Bushnell from Tuesday, Dec. 20 to Saturday, Dec. 24. This is one you shouldn't miss. For tickets visit Bushnell.org.
Part theater and part concert, The Million Dollar Quartet Christmas once again brings together four rock 'n' roll greats in a Memphis recording studio. You can expect lots of 50s and 60s rock and more. It's on Thursday, Dec. 22 at the Shubert Theater in New Haven.
MTC (Music Theatre of Connecticut in Norwalk) is presenting four Broadway and cabaret artists – each for two performances. It opens with Christmas with Lee starring David Mariocco as Liberace; Frank Mastrone in Christmas Time Is Here; Leslie Orofino in Winter Wishes/Holiday Dreams, and Maureen Hammil in Christmas Memories, some of those memories include The Andrews Sisters and 1940s music. For specific dates visit MusicTheatreOfCt.com
For the Children
Another new show should be great for children; it draws on the British pantomime holiday tradition. Christmas Carol – A Panto! is described as a topsy-turvey musical adaptation of the classic novel. Pantomime features gags, comedy, dancing, and usually a male performer as a female character. This show was written (book and lyrics) by Connecticut resident Bert Bernardi with music by Justin Rupp. The Pantochino Company performs at the Milford Arts Council which is adjacent to the Milford train station. Patrons can bring food and drink to enjoy during the show. It runs Fridays to Sundays, Dec. 2 to 18. Information is at parochino.com
Introducing young children to theater is fun at the holiday time, and there's no place better to do that than at the Downtown Cabaret Theater. The Santa Story returns; it's about a young Christopher Kringle and his journey to becoming Santa Claus. It combines music, merriment and mayhem. The show runs Saturday, Nov. 26 to Friday, Dec. 30. These are daytime performances, and you can bring (or purchase) snacks for the children to enjoy during the performance. For tickets visit MyCabaret.org
Another option for children, is Frosty – A Musical Adventure at The Kate on Sunday, Dec. 4.
Concerts Galore
Music is an essential part of this holiday season. You can choose from classical to pop to rock to jazz.
The holiday season kicks off with Orchestra New England's Colonial Concert (the 43rd!) on Saturday, Nov. 26. This annual event features music in the style of colonial New England in the 1780s. It includes the music of the "new" composers of the period – Handel, Haydn and Mozart. The orchestra is in appropriate costumes. The concert is at United Church on the Green in New Haven. You can also have a Colonial Dinner at the Elm City Club nearby. For tickets and information, visit OrchestraNewEngland.org.
If you can't get to Boston to see the Holiday Pops, the Boston Pops on Tour will be at Jorgensen Auditorium on the UConn campus on Saturday, Dec. 3 The Pops always include a singalong.
The Boston Camerata, one of the leading early music ensembles, will be at the Jorgensen Auditorium at UConn on Tuesday, Dec. 2. The group which features four voices and instruments will perform music from the Middles Ages – A Medieval Christmas – Hodie Christus Natus Est.
The ever-popular Mannheim Steamroller is back at the Bushnell on Tuesday, Dec. 6 with Mannheim Steamroller Christmas by Chip Davis. It promises fresh takes on Christmas classic in the distinctive Mannheim sound.
The New Haven Symphony's Holiday Extravaganza Pops concert will include the Fairfield County Children's Choir. Performances are Saturday, Dec. 17 at Lyman Center on the SCSU campus and Sunday, Dec. 18 at Shelton High School. For tickets visit NewHavenSymphony.org.
The Kate in Old Saybrook has concerts by Kat Edmonson: Holiday Swingin' on Friday, Dec. 2, Irish Christmas in America including seasonal Irish traditions, on Tuesday, Dec. 7, Mary Fahl: Winter Songs & Christmas Carols on Friday, Dec. 9, and the CT Gay Men's Chorus We Need a Little… on Sunday, Dec. 11.
The Hot Sardines jazz band is presenting Holiday Stomp on Saturday, Dec. 3 at the Sacred Heart University Community Theatre. For tickets visit SHUCommunityTheatre.org.
A new non-traditional Nutcracker makes its premiere at The Kate on Tuesday, Dec. 13. The Pan American Nutcracker Suite by Connecticut native Joe McCarthy combines the familiar score with multicultural orchestrations and arrangements for an 18-piece jazz ensemble.
Christmas music with the big band/swing sound is at the Bushnell with In the Christmas Mood with the Glenn Miller Orchestra, on Saturday, Dec. 17. The popular Canadian Brass brings their holiday show to the Bushnell on Monday, Dec. 12. The Hartford Symphony's Holiday Cirque! is Saturday, Dec. 10.
A new Holiday Cabaret at the Eugene O'Neill Center in Waterford will present Klea Blackhurst in A Holiday Mixer on Friday, Dec. 16, Liz Callaway in Merry & Bright on Sunday, Dec. 18 and Natalie Douglas in A Very Natalie Holiday! on Saturday, Dec. 17.
Dance
The Ballet Theatre Company will start The Nutcracker season at the Bushnell on Saturday and Sunday, Nov. 26 & 27. The 11 a.m. performance on Sunday is a Sensory Friendly Ballet.
The Hip-Hop Nutcracker returns to the Bushnell on Saturday, Dec. 31 and the Shubert Theatre Friday, Dec. 30.
The more traditional Nutcracker is being presented in Hartford, New Haven and New London.
Connecticut Ballet will feature guest stars from the NY City Ballet and American Ballet Theater. It's at the Bushnell on Saturday and Sunday, Dec. 10 & 11 and at the Palace Theatre in Stamford, Saturday and Sunday, Dec. 17 & 18.
The New Haven Ballet will present The Nutcracker at New Haven Shubert Theatre on Saturday and Sunday, Dec. 16 & 17. Guest artists will be from the NY City Ballet.
New London in the 1850s is the setting for the Eastern Connecticut Ballet's Nutcracker, also featuring stars from the NYC Ballet. It's at the Garde Theater in New London on Saturday, Dec. 10 and Sunday, Dec. 12.
Much More
The Lantern Light Village is returning to Mystic Seaport Museum – Fridays and Saturdays from Dec. 2 to Dec. 17. This trip back to the Christmas holidays in the 1800s, features ghost stories this year. You can explore the historic village while enjoying classic carols, 19th century dances and hot drinks while you listen to chilling tales.
Drive-through light displays are fun events for the family. Could you squeeze all of them in just one night? Probably not. At Goodwin Park in Hartford is Holiday Light Fantasia through Sunday, Jan. 1. At Lighthouse Point Park in New Haven, there's the annual Fantasy of Lights through Saturday, Dec. 31, and Meriden gets in the act with it's Festival of Silver Lights in Hubbard Park from Friday, Nov. 24 to Sunday, Jan. 1.
Lake Compounce is presenting Holiday Lights, which includes a light show set to music at the main gate, a train transformed into the North Pole Railway, plus opportunities to decorate cookies and much more. In Kiddie Land, smaller children can hear Mrs. Claus tells stories. It runs through Saturday, Dec. 31 on selected dates. Some special events include a Kid's New Year's Eve and Pawliday Lights when pets can take photos with Santa.
You can stroll through the Holiday Light Spectacular at Olde Mistick Village (running all season) or the Trees in the Rigging Boat Parade in Essex along the Connecticut River on Sunday, Nov. 27. Rose's Vineyard in North Branford celebrates the season with the Lighting of the Vineyard on Friday, Nov. 25.
Ivoryton's Illuminations are always worth a visit. The official lighting will be on Saturday, Dec. 3 between 5 and 8 pm. In addition to carol singing, there is an elf scavenger hunt, a petting zoo and more.
The Wadsworth Atheneum's annual fund-raising event, The 48th Festival of Trees and Traditions runs Thursday, Dec. 1 through Sunday, Dec. 11. Artists, community residents and organizations decorate trees and wreaths which are for sale. Check TheWadsworth.org for information and tickets.
The East Haven Trolley Museum offers Santa's Trolley Winter Wonderland beginning Saturday, Dec. 26. No reservations are needed, but check the website for dates, times and information.
New York City Highlights
Jazz greats Duke Ellington and Billy Strayhorn wrote their version of The Nutcracker. Now decades later their Sugar Hill: The Ellington/Strayhorn Nutcracker is being produced. Set in Harlem's Sugar Hill, it will be directed and choreographed by Tony award nominee Joshua Bergasse. It runs at the NY City Center through Sunday, Nov. 27.
Several versions of A Christmas Carol are taking the stage. Jefferson Mays (who grew up along the shoreline) has created a solo adaptation now on Broadway through Sunday, Jan. 1. Mays – who often plays multiple characters – won a Tony for playing over 40 characters in I Am My Own Wife. Here he plays all the characters in the famous story.
Dylan Thomas was not Irish (he was Welsh), but his A Child's Christmas in Wales is returning to The Irish Rep from Thursday, Dec. 1 through Saturday, Dec. 31. This is the 6th edition of the iconic work. Previous productions have been called "a cavalcade of imagery and sensation." For tickets visit IrishRep.org.
What happens when you combine A Christmas Carol and Sherlock Holmes? You end up with A Sherlock Carol which is returning to off-Broadway. In this version through Sunday, Jan. 1, Holmes is called in by an adult Tiny Time to investigate the death of Scrooge.
Don't forget the perennial favorites: the show at the Radio City Music Hall featuring the Rockettes which promises a new production number.
The classic Nutcracker choreographed by George Balanchine is back at the New York City Ballet at Lincoln Center.
And, of course, visit the tree at Rockefeller Center and see the spectacular light display with music at Saks Fifth Avenue, just across the street.