Tom Krens Has Plans for Northern Berkshires
Discusses Williamstown to North Adams Cultural Corridor
By:
Charles Giuliano

-

Dec 07, 2015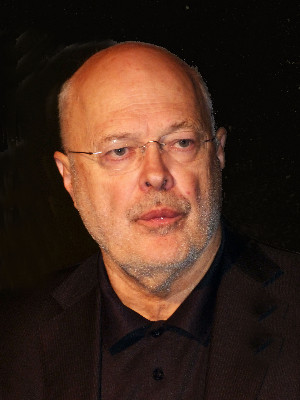 This past weekend Tom Krens presided over a press conference at Western Gateway Heritage State Park announcing plans for development in North Adams to create a cultural corridor connecting with Williamstown.
What follows is an excerpted transcript of remarks delivered to politicians, community leaders and the media. In a separate report we will focus on the concepts and development plans to create a 160,000 square foot Global Contemporary Art Museum. The privately funded museum will be the first of its kind as a "for profit" institution.
Remarks by Tom Krens.
I want to tell you how I got back here. I've been in New York for 25 years but coming back to Williamstown from time-to-time because I still had a home here. Gradually it dawned on me as I have been following things at Mass MoCA that the Sol LeWitt installation and the collaboration with Yale University was one of the heroic moments for Mass MoCA and indicated it would be there for awhile. Then when Andy Hall and the Hall Foundation did the other building with Anselm Kiefer that set the ground for the $25 million (State) grant for those other artists (final phases of campus development).
You could clearly see that the ship was rising. At the same time I was very close to Michael Conforti (former director of the Clark Art Institute). I probably toured the construction site more than anybody else who was not on staff. My former project manager for the Guggenheim was project manager for the Clark. So I had an insider's view.
The Clark is a spectacular success. It became a major, major institution. Not that it wasn't but its way, way more now. You could see that this place (North Adams) was an interesting place for sophisticated art. Up until this moment, up to a year ago, I had been working for seven years mainly in China. I'm not going to go into my China projects or why I finally got beaten down by China. It had a little to do with traveling there once a month. That's a 25 hour trip one way. It's a twelve hour time change and you stay there for three or four days then you come back. It's a completely disorienting and exhausting thing to do month, after month, after month for seven years.
I thought why not try to do it here? In my mind the most important project is the project at the (North Adams) airport. As I started thinking about that John DeRosa (attorney for Mass MoCA) introduced me to Mayor Alcombright.
They heard some noise in the basement of my house and asked what that was. I explained that I was building a prototype for a museum in China of extreme model railroads with contemporary architecture. After that it became Heritage Park. John was hounding me it has to be Heritage Park (North Adams).
Gradually, as spring came I started riding my bicycle around Heritage Park and the Hoosac Tunnel. I started looking more and more at North Adams I began to see that there might be something here.
Heritage Park was originally a project of Governor Dukakis. These buildings were quite extraordinary.
I'm going to be candid here. North Adams is a small city in Massachusetts. It would be hard to imagine North Adams without Mass MoCA. But Mass MoCA hasn't been the silver bullet that some of us had hoped for thirty years ago. Mass MoCA has hit its original targets but it's not enough. There hasn't been a spillover effect. There are reasons for this.

People come from south county, they come from all over, but they're not staying. We need to give them more reasons to stay in North Adams. That's part of it. The numbers don't lie. There is a population decline and we have to reverse that. There are only two hotels in North Adams. Joe told me that the future of Mass MoCA depends on the future of North Adams. Something has to be done to enhance the city. So that's the reality.
The potential is that Mass MoCA has received this $25 million grant (from the Commonwealth). Mass MoCA has an annual attendance of 180,000 and the Clark has 320,000. Williams College is about to build a new museum designed by Stephen Hall. These are major institutions. As governor Weld just pointed out it can challenge any major region in the country.
I made a map (projected) that shows what the valley looks like right now. You have the institutions I've mentioned plus the major conservation lab, Williamstown Theatre Festival, but you can see this is a little bit unbalanced. It's more tilted to Williamstown than North Adams and we have to change that.
North Adams and Massachusetts have to embrace the notion that culture and education are major industries. We develop the concept of a cultural corridor. It identifies this valley and accomplishes its growth and we believe that North Adams needs at least three more attractions.
So if we combine the Global Contemporary Art Museum, the Railroad and Architecture Museum and the Mohawk Theatre, all of a sudden the valley looks like this. (Pointing to a more balanced map.) With Global Contemporary being a fulcrum in the middle. But with a cluster of institutions this will clearly become a destination that will have people come up and stay longer. They won't just see the Clark and Mass MoCA then leave. This will inspire the development of more hotels and businesses, etc. etc. We are studying that and will report on that by the end of the month. What that looks like. Strengthening this kind of triangle in the heart of the city by developing Heritage Park, connecting to Mass MoCA, and then the Mohawk Theatre. I think they are going to be very important.
First the Global Contemporary Museum. Richard is going to talk about the building. This is a theoretical experiment. It's deeply rooted in my thinking about art museums. I also wanted to do an art museum that was extremely beautiful. Extremely efficient. As we like to call it WLEAM World's Least Expensive Art Museum. It's a concrete slab, almost a Butler Building. (Butler Manufacturing™ is a building-solutions company providing the design, manufacture, and marketing of innovative building systems for commercial construction.)
A building designed with sophistication and elegance that is flooded with natural light. There are big skylights 25' high that face north. I'm even thinking. I don't know if it works out to be practical. I don't want to have any lights in this building. So it's ecologically balanced. There's daylight outside and it is flooding into the building as you come inside to see the art. If it gets dark at 3PM, as it does in the winter, the museum closes. The hours might be flexible. The spaces are extraordinary; big, wide- open spaces. It's on property next to the airport and Stop & Shop.
There are plans on the table to build an administration building for the airport.

$4 million from the state only requires $200,000 from the city. If that happens with the GCAM and the administration building happen, with two restaurants and lots of parking, then it becomes an attraction of North Adams. Those people who have private airplanes can fly in and look at the art. (The nearby Pittsfield airport has been expanded and can handle larger planes.)
Krens Part One.
Krens Part Three.