MASS MoCA Announces Events
Ladie's Choice for Winter
By:
Charles Giuliano

-

Dec 07, 2016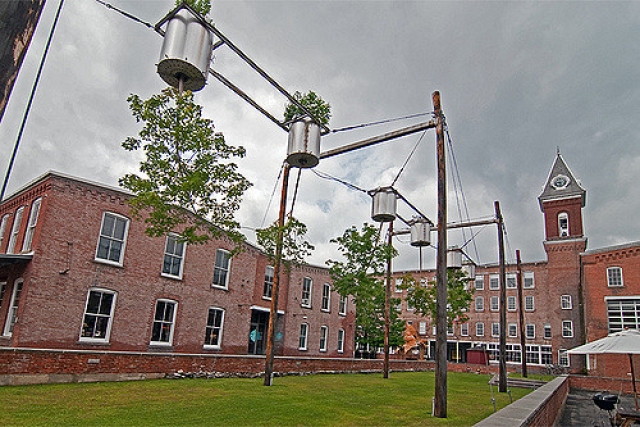 MASS MoCA heads into the winter season with ladies in the spotlight, on stage, and in the galleries. Also on tap: five exhibition openings, a concert by freshly reunited Miracle Legion, a timely musical performance by S? Percussion: A Gun Show, and the reprisal of Parsonsfield's FreshScores, a FreshGrass '16 favorite. Free Day falls on February 4, a day in which MASS MoCA throws open its doors and welcomes museum-goers with free gallery admission.
In the Galleries
Nick Cave: Until, the artist's largest exhibition yet, opened October 15, and continues to occupy our largest gallery and our imagination. Forests, clouds, mountains, and a trove of dazzling objects expose America's ugly underbelly — a provocative environment that challenges every viewer. "Nick's work is so seductive but it's always had this political thread," remarks curator Denise Markonish. "He aims to seduce you and then punch you in the gut." On April 28, curator Markonish facilitates a discussion with the artist, the head of Chicago's Police Board and Task Force on Police Accountability, Lori E. Lightfoot, as well as other contributors to the exhibition catalog. The panel will grapple with America's most confounding issues, including gun control, gun violence, race relations, and policing.
Tanja Hollander set out to photograph all 626 of her Facebook friends, traveling the world to find out from her connections, Are you really my friend? The exhibition opens on February 18. Elizabeth King challenges the idea of radical smallness, exhibiting her half-scale sculptures and stop-motion video projections. King will produce an animated video during a two-week artist residency, when she will employ her gallery space as animation studio. Visitors are invited to watch art being made. Radical Small opens March 4. Evocative and enigmatic, Steffani Jemison's Plant You Now, Dig You Later, inspired in part by Louis Armstrong lyrics, opens on March 18. Jemison's exhibition features a new sound work, a graphic score, photographs, and paintings inspired by black resistance movements and unconventional methods of communication. In the Abstract uses stacks of bunk beds, lines of hanging clothes, and canvases encrusted with sawdust to examine the systemic abstraction of the world we live in, and its role as a metaphor for social and political reality. The show opens on May 6. Animating the Hunter Center mezzanine, Chris Domenick combines simple industrial printing processes with collage and drawing in Fifty Days, beginning January 18.
Live Music
The spring season is a delicious serving of living legends and trailblazing talent. Staple Singers sensation and recent Kennedy Center Honoree Mavis Staples is a highlight of the season. She takes the Hunter Center stage on March 25 with her full band. The Universal Melody Brass Band brings wicked horns and drums galore — from Duke Ellington to Sly and the Family Stone — to MASS MoCA on February 4, a funky capstone for the museum's annual Free Day. On January 28, Parsonsfield returns to MASS MoCA to reprise their smashing FreshGrass performance scoring Nanook of the North with original music. On February 11, we welcome S? Percussion: A Gun Show, a group The New Yorker describes as "an exhilarating blend of precision and anarchy, rigor and bedlam."
Freshly reunited Miracle Legion plays a special homecoming show on April 8, where its jangly guitar rock will transport you back to the glory days of college radio. Janka Nabay and the Bubu Gang keep the good vibes rolling with traditional Bubu music best described as dance meets reggae meets electronic. Party with the gang on March 11. On March 17, local heroes The Whiskey Treaty Roadshow ring in St. Patrick's Day with a celebration of brotherhood, spirits, and foot-stomping folk rock. Sam Cohen, the former Apollo Sunshine and Yellowbirds frontman, promises "vintage, sunny psychedelia" (Pitchfork) with his feel-good sound on February 25. Nordic duo My Bubba closes out the Club B10 season with its mesmerizing, soft vocals. No Depression coins them "their generation's Simon and Garfunkel."
Comedy
MASS MoCA's High Mud Comedy Festival returns for a foolishly funny weekend hosted by festival favorite Dave Hill. Phoebe Robinson — the sensational co-creator and co-star of 2 Dope Queens — anchors the weekend. More lineup details are to be announced, but for now, pen in March 31–April 1 for a jam-packed weekend of serious laughs. We warm you up for High Mud on February 18, when Jo Firestone and Club B10 alum Joe Pera hit us with some absurdist comedy.
Dance
Renowned choreographer and dancer Bill T. Jones performs a new work, developed in response and performed amid Nick Cave's Until on March 4. Okwui Okpokwasili, a politically charged performance artist and Bessie Award-winning dancer, will take the gallery space as stage on April 4 in a solo program. Richard Move will be in residence to develop XXYY, a new collaboration with theater artist Alba Clemente and visual artist Paolo Canevari. The poetic, multi-sensorial piece ends its MASS MoCA story with a work-in-progress performance on January 20.
Families
Free Day, an annual event in which MASS MoCA throws opens its doors and waives admission to all visitors, falls on February 4 from 11am–7pm, with activities for families all throughout the day. The Universal Melody Brass Band performs that night to top the celebration. Feminist acrobatic dance troupe LAVA takes our Hunter Center stage the afternoon of Saturday, April 15, to present a new piece, developed at MASS MoCA, in their show designed for families and children.
Film
We introduce the first film of our new documentary series, Portraits of Empowerment: Women Making an Impact, on Thursday, February 2. A different film will be screened each Thursday of February. On the docket: Seven Songs for a Long Life, Everybody Knows…Elizabeth Murray, Ovarian Psycos, and A Revolution in 4 Seasons.
Wilco and Solid Sound Return – Tickets go on sale
Three-day tickets for Wilco's Solid Sound Festival, which returns to MASS MoCA in North Adams, MA from June 23-25, 201, go on sale this Friday at 10am through solidsoundfestival.com, and the MASS MoCA box office. For a limited time, tickets will be offered at a reduced early-bird rate of $134. Children's three-day tickets (ages 6-10) will be available for $50, and children under 6 are free. Friday also marks the opening of campsite reservations for the official festival campground Solid Ground. Campsite reservations can be made only by calling the MASS MoCA box office at 413.662.2111.
Conceived by Wilco and inaugurated in 2010, Solid Sound will again present Wilco as hosts and headliners and will feature an eclectic, Wilco-selected musical lineup of indie, rock, jazz, and more, as well as performances by Wilco members' side-projects. In addition to the expansive galleries of MASS MoCA, which will double its exhibition space to encompass over 250,000 square feet of galleries beginning in 2017, the festival includes a fully programmed comedy stage hosted by John Hodgman, naturalist/outdoor activities that exemplify the spirit of The Berkshires, a broad variety of family activities, local food, craft beer and cider, and more.
Season at a Glance, by Date
| | | | |
| --- | --- | --- | --- |
| Date | Time | Event | Type |
| January 20 | 8pm | Richard Move | Dance |
| January 28 | 8pm | Parsonsfield: Nanook of the North | Film with Live Music |
| February 2 | 7:30pm | A Revolution in 4 Seasons | Documentary Film Series |
| February 4 | 11am-7pm | Free Day | Free admission for all |
| February 4 | 8pm | The Universal Melody Brass Band | Live Music |
| February 9 | 7:30pm | Ovarian Psycos | Documentary Film Series |
| February 11 | 8pm | S? Percussion: A Gun Show | Live Music |
| February 16 | 7:30pm | Seven Songs for a Long Life | Documentary Film Series |
| February 18 | 8pm | Jo Firestone | Comedy |
| February 23 | 7:30pm | Everybody Knows…Elizabeth Murray | Documentary Film Series |
| February 25 | 8pm | Sam Cohen | Live Music |
| March 4 | 8pm | Bill T. Jones | Dance in the galleries |
| March 11 | 8pm | Janka Nabay and the Bubu Gang | Live Music |
| March 17 | 8pm | The Whiskey Treaty Roadshow | Live Music |
| March 18 | 5:30pm | Members' Opening reception: Elizabeth King: Radical Small; Tanja Hollander: Are You Really My Friend?; Steffani Jemison: Plant You Now, Dig You Later | Exhibition Openings |
| March 25 | 8pm | Mavis Staples | Live Music |
| March 31-April 1 | TBD | The High Mud Comedy Festival | Comedy Festival |
| April 7 | 8pm | Okwui Okpokwasili | Dance in the galleries |
| April 8 | 8pm | Miracle Legion | Live Music |
| April 15 | 3pm | LAVA: A Goddessy | For Kids |
| April 28 | 6pm | Nick Cave Book Talk | Book Talk |
| May 6 | 8pm | My Bubba | Live Music |
| May 6 | 5:30pm | Members' Opening Reception: In the Abstract; The Half-Life of Love | Exhibition Openings |
| June 23–25 | All day | Wilco's Solid Sound Festival | Music Festival |
| September 15–17 | All day | FreshGrass Festival | |