Willy Holtzman's Smart Blonde
World Premiere at Pittsburgh's City Theatre
By:
Wendy Arons

-

Dec 16, 2014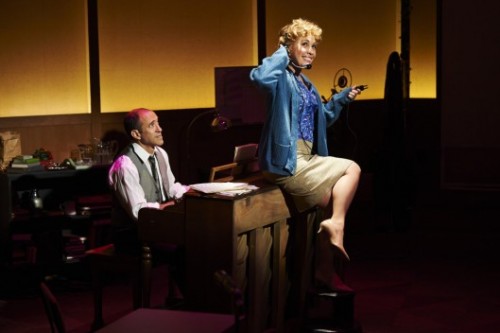 Willy Holtzman's play Smart Blonde (in its world premiere at City Theatre) is a surprising amuse-bouche of a play: like an intricately prepared appetizer, it tantalizes but also teases, giving you something to savor but also leaving you wanting just a bit more. The play presents a biographical sketch of the film and theater actress Judy Holliday, née Judy Tuvim, whose Marxist-Jewish upbringing (and lifelong relationships) made her vulnerable to the scrutiny of the McCarthy hearings, and who built her theatrical and film career playing "dumb blondes" (even though she herself was possessed of extraordinary intelligence).

If you're of a certain age, or a classical Hollywood film buff, you might have seen her as the vapid Billie Dawn, her signature role, in the film version of Born Yesterday; as writer Ruth Gordon observes in the play, "It takes a smart woman to play dumb."
The play opens in a recording studio in 1964, with Holliday (Andréa Burns) recording an album of songs she has co-written with her collaborator (and lover) Gerry Mulligan. As she begins to rehearse while waiting for Mulligan to arrive, the scene flashes back to her youth, and then hops forward in irregular intervals to present short vignettes tracing her early cabaret act, her debut on Broadway, her move to Hollywood and a career in film, her testimony in front of Congress after coming under suspicion as a Communist, and her film comeback thanks to the intervention of producer Harry Cohn.

Along the way we see some details of her personal life – struggles with family expectations, friendships with prominent Jewish performers and writers like Leonard Bernstein and Garson Kanin, marriage to musician David Oppenheim, motherhood, divorce, and, finally, romance and artistic collaboration with the jazz composer Gerry Mulligan.
Holtzman moves the story along at a brisk pace, pausing just long enough to give us a glimpse of some of the major milestones in Holliday's career and personal life (the show runs eighty minutes without intermission). The flashbacks shift fluidly into each other, thanks to quick costume changes and skillful choreography on the part of actors Jonathan Brody and Adam Heller, who play the roles of all of the other figures in Holliday's life. This was a little disconcerting at the beginning – I'll confess at first I had a a bit of trouble keeping up – but because the whole is structured as a collage of all these short scenes the fast tempo feels absolutely right for the play.

Heller and Brody perform some magical sleights-of-body in disappearing as one character and reappearing as another, even at times making the transformation right in front of us with the grab of a prop or costume piece, and they vividly establish the myriad of idiosyncratic personalities who made up Holliday's artistic, professional, and personal circle.

It's been said of Holliday that one of her greatest gifts was her ability to shift mood quickly and easily from comic to serious; the massively talented Burns demonstrates a similar gift in her performance of Holliday, displaying, in one moment, the actress's formidable intellect and seriousness of purpose, and, in the next, her ability to self-mock and assume the persona of a dimwit. She has an enormous smile that brings oodles of charm and charisma to the role, and when she sings – and thankfully, she sings a great deal in this show – she has a voice like honey, smooth, sweet, and easy. I could have listened to her all night. Burns does most of her songs solo, but in a few of the numbers she is joined by Brody and Heller, who are accomplished vocalists themselves (and Brody does double duty in the show as an impressively adept piano accompanist).
Tony Ferrieri's set design rather ingeniously serves as both a realistic recording studio and every other space needed for the flashbacked scenes – the recording studio-specific elements seem to disappear and reappear as needed, due in no small part to Ann Wrightson's effective lighting design. Robert C.T. Steele's period specific costumes are simple enough to be donned and doffed quickly, but iconic enough to help us keep track of the many characters who come and go in Holliday's life.
The fact that these personalities are so lightly sketched – and that we're not sure we even fully know Holliday herself at play's end – is, in the end, one of the strengths of Smart Blonde: it opens the door just a crack onto a subject who seems infinitely more interesting than would first appear.
Reposted courtesy of Wendy Arons and The Pittsburgh Tatler.