Renée Fleming Broadway Bound
Yet Another Williamstown Theatre Festival Transfer
By:
Charles Giuliano

-

Dec 23, 2014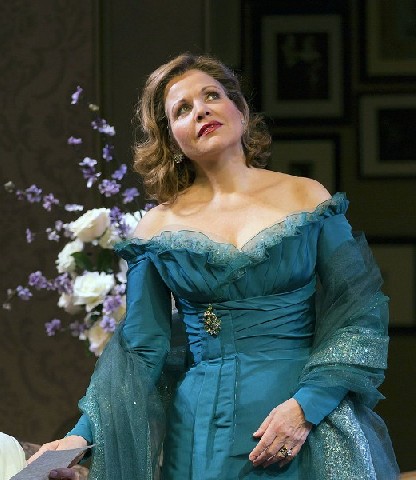 For three intense minutes last summer I was face to face with the opera diva Renée Fleming.
It was one of those frustrating speed dates following a morning press conference organized by the Williamstown Theatre Festival.
Looking intently into the face of one of the reigning queens of the Met I gushed about how much we had enjoyed her Rusalka. I melted in the warmth that radiated from her response. It seemed absolutely sincere and utterly charming.
Charles Giuliano Welcome to the 20th Century or now the 21st century. Can we discuss what that means for you when stepping out of the familiar world of opera?
Renée Fleming Honestly to be involved in something this new evolving every day for me is a first for me. This is literally day three of rehearsals so it is very new.
CG I'm following up on a time in your life and career when there are opportunities and changes. Not to force it onto you there seems to be a natural evolution.
RF You know I've been offered several things relating to musical theatre. As we said, I haven't had time to do that. As I've said to people my training is so different and so much about power. In opera we're not amplified. We're the weight lifters of singers. We perform for three hours and then have to be quiet for three days after that.
CG Like a baseball pitcher.
RF Exactly. (laughing) That's much more refined than weight lifters. So this idea that you would perform every day and sometimes twice a day is so foreign to me that right now I can't imagine it. Singing-wise. We'll see how this goes just speaking.
CG We were fortunate to see you at the Met in Rusalka and reviewed it. We continue to get lots of hits on the piece. You have such an enormous fan base.
RF (an emotional response) Oh wonderful. Oh good.
CG You seem unique among opera singers by being as well a dramatic artist.
RF I love theatre. I'm a huge fan. Since I was a beginner singer, stuck in London, alone, right after I got married, I went to the theatre every single night. I got half price tickets and became completely hooked. So I love doing a dramatic part.
CG Have you seen Idina and Audra on Broadway?
RF I've seen them both but not recently. I love Audra. I love her. She's a friend. She's such an incredible artist. When you see her perform every night it seems she's giving every fiber of her being. She's a very generous performer.
CG That describes you as well my dear.
RF Well, thank you.
CG We'll look forward to seeing you on Broadway.
RF We'll see.

Moments later there was a tap on the shoulder and a rotation of musical chairs.
Under former WTF artistic director, Jenny Gersten, she had been lured into her first non operatic stage appearance since high school. The vehicle for a theatrical debut, and a potential career move, was a fluffy little lighthearted comedy Living on Love by Joe DiPietro.
There was nothing particularly awesome about the play in which, guess what, Fleming played an opera diva. In the intimate theatre, closer than one can get at the Met unless you are a one percenter, we were thrilled when she belted out a few bars.
She had explained that preparing for an opera performance is a meticulous process. The voice is a delicate instrument particularly when filling a vast opera house. This month she will appear at the Met in The Merry Widow as well as at La Scala and the Royal Opera of London.
Opera fans and critics can be fanatical and brutal. The norm is to note that time when the voices of the greatest artists stretch beyond their prime.
One of the most beautiful, glamorous, warm and gracious divas of her generation Fleming continues to be a star. The appearance at WTF, however, was widely viewed as a glimpse at ways to sustain a brilliant career.
On Broadway without doubt she will sell tickets.
It is now official that Fleming will star in Living on Love starting April 1, 2015 at the Longacre Theatre. It will open officially on April 20 and run through August 2. It will again be directed by Kathleen Marshall. The rest of the cast is yet to be announced.
Of course during the WTF press conference we asked if the comedy was Broadway bound? There were the usual denials. Much depended on how the production was received by critics and audiences. Nobody admits to looking beyond that.
Leading man Douglas Sills described the pleasure of working with such a renowned artist but insisted that he wasn't going to sit by the phone waiting for a call to Broadway. There are too many ifs.
But of three potential Broadway quality productions at WTF last summer two have now been confirmed. Recently it was announced that the Sam Shephard play Fool for Love with the red hot pairing of the smoldering Nina Arianda and Sam Rockwell is set for New York.
The Kander and Ebb play The Visit opened at the Goodman in Chicago coinciding with 9/11. As a result no New York producers flew in for the play which starred Chita Rivera. There were mixed reviews for a 2008 production. Last summer Gersten provided another staging of the play that Rivera has hoped to bring to Broadway. WTF went all out for the production , with the first Berkshire appearance by Rivera, but so far nothing has been announced.
By any measure, however, hitting two out of three is remarkable for Gersten and WTF.
Add to that a current Broadway run of WTF's Elephant Man production. Gersten also exported the musicals Bridges of Madison County and Far from Heaven.
Currently, Gersten is taking a break but it seems inevitable that we will see more of her productions headed to Broadway. Either, as with WTF, while artistic director of a company or as an independent producer.
We will anticipate a new season WTF with artistic director Mandy Greenfield.