Joe Papp at the Ballroom
A World Premiere by GableStage
By:
Aaron Krause

-

Dec 27, 2021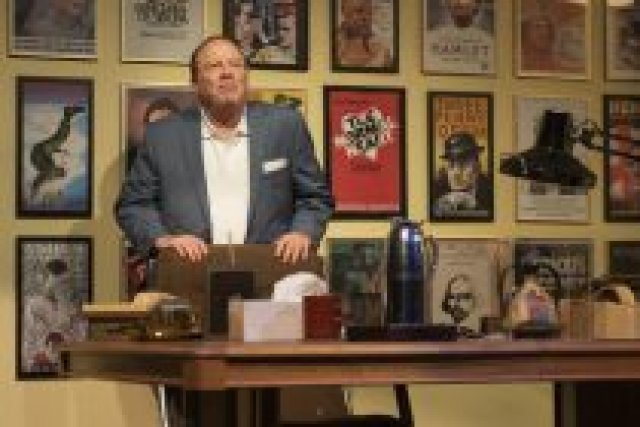 If you wish to catch The Music Man on Broadway, a seat about four rows from the stage will cost you $714. That is not a misprint. And if you decide instead to sit in the mezzanine section that same day, the lowest price is $199. In fact, these prices are for a preview performance, before the production officially opens, with all kinks supposedly worked out.
With the aforementioned in mind, and considering that theater legend Joe Papp would have turned 100 this year, it is a good time to pay homage to the late legendary producer. His philosophical tenant was "theater for all." Actually, Papp believed that live theater should be like the public library -- free and open to all.
No doubt, Papp (1921-1991), would have reacted strongly after hearing about the exorbitant prices. After all, Papp founded the New York Shakespeare Festival. Today, we know it as The Public Theater. It is the birthplace of shows such as Hair and A Chorus Line.
To this day, The Public has offered free Shakespeare productions in Central Park. In fact, for much of his career, Papp promoted his idea of free Shakespeare in New York City. Funding has come from corporate sponsors and private foundations.
You can hear such facts, as well as anecdotes, from the legend himself at GableStage in Coral Gables. That is because the award-winning, nonprofit, professional theater company is staging a strong world premiere production of Joe Papp at the Ballroom through Dec. 31. It is a funny, informative, and entertaining, roughly 80-minute one-character play with music. There is no intermission. GableStage is presenting the play in collaboration with the Yiddishkayt Initiative (https://yilovejewish.org). The latter is a nonprofit venture which aims to bring Jewish heritage back to the forefront of Jewish life.
The Yiddishkayt Initiative's CEO, Avi Hoffman, is energetically, believably, and gracefully portraying Papp.
The legend, dubbed the "greatest American Theatre icon of the 20th century," presented one public concert in his career. During the event, in 1978, Papp recounted his Brooklyn Yiddish upbringing, his political struggles, and his reconceiving of the creative process. In Joe Papp at the Ballroom, Hoffman, Susan Papp Lippman, and Eleanor Reissa adapt and recreate the historic event.
Hoffman has been working closely on the play with Papp's widow. He is a world-famous actor who specializes in Jewish culture and Yiddish theater.
The conviction and enthusiasm with which Hoffman portrays Papp is contagious. And, to his credit, Hoffman neither idolizes nor demonizes Papp. Rather, he comes across as an imperfect but highly accomplished, strong-willed human being with a burning desire to share live theater with others.
Hoffman's Papp is clad in a tuxedo and top hat, and later in a blue suit. (Emil White designed the character-appropriate costumes). Hoffman's Papp exudes charm, nostalgia, and a fierce pride for his Jewish heritage.
When Papp, his eyes closed in heavy concentration, recollects something or utters a prayer, you keenly hear the conviction in his voice. It emits a pleasant but strong sound whether the character is relaying an anecdote or singing one of the show's songs. Meanwhile, Phil Hinton, serving as music director and pianist, skillfully accompanies Hoffman.
Joe Papp at the Ballroom takes us as far back as Papp's childhood, during which he lived amid poverty in the slums of Brooklyn.
In addition to Papp's upbringing, we learn about his first encounter with Shakespeare, his battles with New York City officials to present free Shakespeare productions ("I didn't think it was radical, I thought it was absolutely essential"), his thoughts about money, his closeness to his Jewish heritage, his ties to communism, his testimony to the House Un-American Activities Committee, and his efforts to put on shows while serving in the Navy. While there, he met "a young sailor named Bob Fosse." Of course, audience members laughed after the line, since many likely are familiar with the late, famed director/choreographer and actor (1927-1987).
Fosse is not the only well-known figure Papp mentions in the play. In addition, he recalls casting "James Earl Jones as Othello. Such an extraordinary command of language."
Why produce live theater?
"I produced theater for the expression of the human spirit," Hoffman's Papp proclaims with confidence.
While the play highlights the man's accomplishments, we also learn about moments of which he is less proud. For example, he endured four "broken marriages" which "scarred" his children.
Credit Hoffman, Papp Lippman, and Reissa for hitting the highlights, without trying to stuff too much material into the play.
In addition to her role as a co-adaptor, Reissa directed the production. She often moves Hoffman around the stage. And, at one point, she highlights the performer by having him stand on a structure. Certainly, she ensures that the action is never dull, does not lag, or move too fast for us to follow.
Scenic designer Lauren Helpern's roomy, detailed depiction of Papp's office includes light-colored walls, a choice that reinforces the production's upbeat mood.
Lighting designer Tony Galaska's work helps create focus and enhance mood, without calling too much attention to itself.
Undoubtedly, Papp was a giant in the theater to whose accomplishments, attention must be paid.
Without hesitation, credit Yiddishkayt Initiative and GableStage for highlighting him. In fact, GableStage is able to celebrate two legends whose first names were Joe – Papp, and the late Joseph Adler, the company's producing artistic director for 20 years, and a multi award-winning South Florida legend who died last April.
Yiddishkayt Initiative and GableStage's production of Joe Papp at the Ballroom continues through Dec. 31. Showtimes are 2 p.m. and 7 p.m. Wednesday, 7 p.m. Thursday, 8 p.m. Friday, 2 p.m. and 8 p.m. Saturday, and 2 p.m. Sunday. A special performance will take place at 6:30 p.m. on New Years Eve. Ticket holders can enjoy the show in person or via stream. Tickets start at $35 plus fees, with discounts available for artists, students, groups, subscribers, military service active members, veterans, families, and members of the Biltmore Hotel. Go to gablestage.org/tickets, call (305) 445-1199 or e-mail boxoffice@gablestage.org.