Military Working Dog Teams National Monument
Lackland Air Force Base in San Antonio, Texas.
By:
Susan Cohn

-

Dec 29, 2017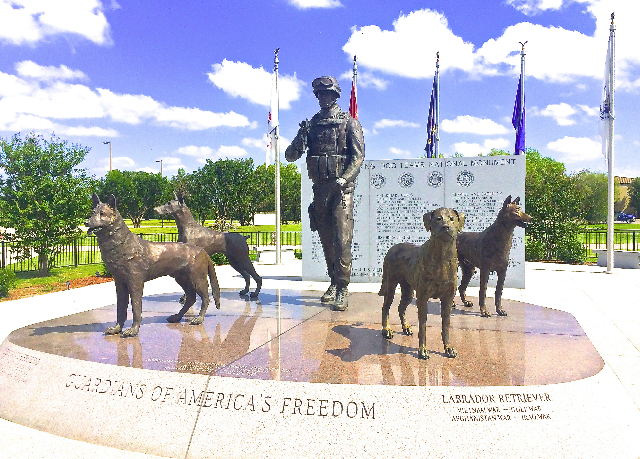 COURAGE AND FIDELITY HONORED: THE MILITARY WORKING DOG TEAMS NATIONAL MONUMENT AT LACKLAND AIR FORCE BASE, SAN ANTONIO, TEXAS. Dogs.

They have protected U.S. Armed Services - Army, Marines, Navy, Air Force, and Coast Guard - since World War II. Vietnam Veteran Infantryman and German Shepherd Scout Dog Handler John C. Burnam knew the dogs deserved recognition and was the moving force behind what is now The Military Working Dog Teams National Monument at Lackland Air Force Base in San Antonio, Texas.

In the center of a spacious plaza, a 9-foot modern day Military Working Dog Handler stands with larger-than-life bronze statues of four of the more common breeds of Military Working Dogs utilized by the United States Department of Defense since World War II: Doberman Pinscher, German Shepherd, Labrador Retriever, and Belgian Malinois.

An inscription reads: "Dedicated to all U.S. Military Working Dog Handlers and their beloved dogs who defend America from harm, defeat the enemy, and save lives." A large granite wall, which serves as a backdrop to the sculptural group, is inscribed on one side with the history of the Military Working Dog program. The other side of the wall is laser etched with authentic photo-based images of Military Working Dog Teams in action during World War II, the Korean War, the Vietnam War, the Gulf War and the Wars in Afghanistan and Iraq. The monument was dedicated during a formal military ceremony on October 28, 2013.
THE NOT FORGOTTEN FOUNTAIN.

Near the main sculptural group is the "Not Forgotten Fountain," a bronze sculpture depicting a Vietnam War dog handler pouring water from his canteen into a helmet for his thirsty canine companion who sits next to him. Conceived by Mr. Burnam, the fountain is fully functional so that a visiting dog may have a drink. An inscription on the granite pedestal reads "In everlasting memory of all the war dogs who served, died, and were left behind in the Vietnam War."
WHY IS THE MILITARY WORKING DOG TEAMS NATIONAL MONUMENT LOCATED AT LACKLAND AIR FORCE BASE? Lackland Air Force Base has been the recruiting and training facility for the U.S. Armed Services military working dog program since 1958. It also provides training for working dogs for other government agencies and is the home of the Holland Veterinary Military Working Dog Hospital, which cares for the approximately 900 dogs and puppies that are at Lackland AFB, at Lackland's Medina Training Annex, or in local area dog foster homes.
ABOUT THE SCULPTOR. The sculptures of the dogs and the military handler were crafted by Northern California sculptor Paula Slater, M.A.. Slater said, "It was a great honor being selected to sculpt the monumental bronze figures for U.S. Military Working Dog Teams National Monument and also the Not Forgotten Fountain. There were many steps to creating this project, from design sketches, meeting with dog breeders and dog handlers, taking photographs and studying uniforms, then sculpting small models and a trip to the Pentagon to get approval of the small 18" high clay model before beginning work on 1.5 times life size sculptures."
TO LEARN MORE ABOUT WAR DOGS. Stories of combat soldiers and the dogs that protected them are told in John C. Burnam's books Dog Tags of Courage: Combat Infantrymen and War Dog Heroes in Vietnam; and Canine Warrior: How a Vietnam Scout Dog Inspired a National Monument.
KNOW BEFORE YOU GO: HOW TO SEE THE MONUMENT. The Military Working Dog Teams National Monument is at 2434 Larson St, Lackland Air Force Base in San Antonio, Texas, formally known as Joint Base San Antonio, Lackland. The Base is a secure military installation, but Public Law 110-181 requires the Department of Defense to provide reasonable access to the monument by visitors and their dogs. Those who wish to visit the Military Working Dog Teams National Monument can request a base pass at the Lackland Air Force Base visitor control centers by presentation of appropriate photo I.D. The pass is limited to four hours of base access and can only be used to visit the monument. Arrangements may be made in advance by calling 210-671-8200.

The 2013 unveiling of the monument may be viewed at https://www.youtube.com/watch?v=oJq8zvKqS2g.
AND REMEMBER

A dog creates, transcribes, a new landscape for you. Rick Bass, author of Colter: The True Story of the Best Dog I Ever Had.
Susan Cohn is a member of the North American Travel Journalists Association, Bay Area Travel Writers, and the International Food, Wine & Travel Writers Association. She may be reached at susan@smdailyjournal.com. More of her stories may be found at
http://ifwtwa.org/author/susan-cohn.