Obama's Picks for Best Films
Everyone's a Critic
By:
Charles Giuliano

-

Dec 30, 2019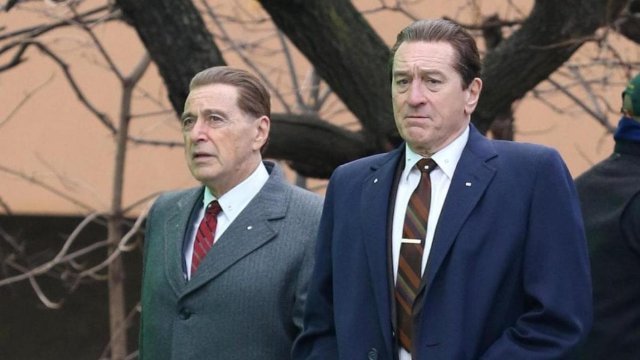 It was intermission during a particularly difficult and demanding play.
In the men's room, the dude next to me piped up. He had a strong take on the drama and was just busting to express as well as relieve himself.
Generally, taking a leak is a solitary and introspective experience. The received decorum is that it is not a social occasion.
"What did you think of that" the perfect stranger blurted out. Well, truth be told, nobody is perfect. But certainly, this was a rude and intrusive stranger.

"No comment" I replied with an economy of words.

That seemed to, well, piss him off.
"Why" he wanted to know becoming agitated.
"Because I'm a critic and have to think about it" I responded.
"Everyone's a critic" he shot back becoming somewhat enraged. "I'm as much a critic as you are."
Archly I inquired "Oh, and where do you publish your opinions?"
With no come back to that we zipped, washed up, and went back to endure the excruciating second act. Later I posted a critical, hopefully somewhat insightful review. Yesterday, I was surprised to see that the screed had made the year end top ten list of the Berkshire Eagle.

There is no accounting for taste. Indeed, De gustibus non est disputandum.
Also in the year end news I was not amused to encounter former president Obama's ruminations on the best books and films of the past year.
Out of curiosity I glanced at his picks. They were mostly predictable and pedestrian. Why would I be interested in the critical thinking of a politician? Too often idiotic opinons of celebrities are quoted on topics about which they have no cred.
Significantly, it's just a list. There is no commentary about the selection. It just implies that he and Michelle share a lot of popcorn.
The last time anyone in the White House exhibited knowledge and taste in the arts Jackie Kennedy was First Lady. One recalls Pablo Casals performing for a gala evening. She was later a distinguished book editor.
If, to follow up on our men's room thesis, everyone's a critic then why not a former president?
But this notion really gets under my skin.
Being a critic is a tough job which I take seriously. It has entailed a lifetime of really hard work.
I miss those long lunches with my deceased colleague and friend Larry Murray. We had deep and complex discussions of our craft and ways in which we might refine and sharpen our judgement.
For the past several years I have been a board member of American Theatre Critics Association. That has mandated deep diving into the issues of our profession. Astrid and I have attended regional conferences of ATCA. That has allowed us to experience the range of American theatre. These meetings feature insightful keynote speeches and panel discussions.
We always come away feeling enriched. That was particularly the case last summer after a black theatre festival in Winston Salem, North Carolina. It allowed for feeling the pulse of an ever more important and vibrant aspect of American theatre.
So Obama likes movies. That's just great. Heck, we all do.
Cinema is the most accessible and populist of all art forms. Unless, of course, one is talking about cinema/ cinema. Which is not to say, like movies. Duh.
Those kind of films don't come to the North Adams Megaplex which mostly screens crap. Like date movies or the latest idiotic Liam Neeson action adventure flick. It is such a shame to see a once great talent now only in it for the money.

The year end lists of New York Times film critics always puzzle me. They see hundreds of films each year while most of us only see a few. Then usually bunched up during the awards season. Some of them eventually get to the tube. We watch a lot of TV.
Years ago I did a stint as a film crtitic. At first I thought it was great to see free movies. To my dismay I discovered that most are screened in the morning in small rooms with a handful of seats. Critics make a point of not responding to what they see or discussing them in the lobby. As they say in sports there's no cheering in the press box. My takeaway from the experience was seeing a lot of really bad movies. Including Fellini's excruciating "Casanova."
Pity the scribes who had to sit through "Cats." Even on stage in London I found it an utter bore. I wonder if Obama saw that one?
Right now our go to evening fave is another episode of the vintage British hospital series The Royal. We are now near the end of season six of eight on Amazon Prime/ Acorn. Each episode is astonishing for its superb invention and writing. We love the characters and vintage 1960s British Invasion sound track.

The big problem is that criticism is an endangered art form. The ATCA board struggles with the issue of attracting, serving, and maintaining a younger and more diverse membership. The good old boys hegemony of print media and dead trees is just not sustainable.
At least for now, however, I continue to believe that my opinion counts. And, until I sleep on it, posting in the morning, I intend to keep it in my pants.
For what it's worth here is the year end list of former President Obama.
Top Movies of 2019
Movies
"American Factory"
"Amazing Grace"
"Apollo 11"
"Ash is Purest White"
"Atlantics"
"Birds of Passage"
"Booksmart"
"Diane"
"The Farewell"
"Ford v Ferrari"
"The Irishman"
"Just Mercy"
"The Last Black Man in San Francisco"
"Little Women"
"Marriage Story"
"Parasite"
"The Souvenir"
"Transit"
TV shows:
"Fleabag: Season 2"
"Unbelievable"
"Watchmen"