Leiber & Stoller's Smokey Joe's Café
At ACT-CT in Ridgefield
By:
Karen Isaacs

-

Oct 18, 2021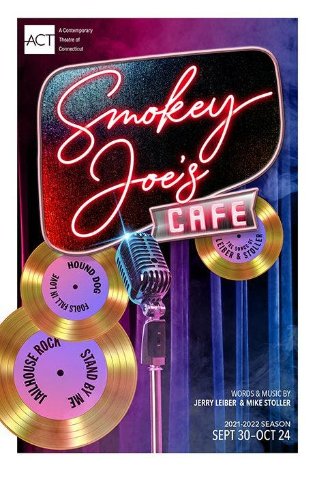 The joint is rocking at ACT-CT in Ridgefield with its production of Smokey Joe's Café, the revue of music by Leiber and Stoller through Oct. 24.
Smokey Joe's is a pure jukebox musical; there is no plot and no dialogue, just the songs from this team – Jerry Leiber and Mike Stoller whose fame was mainly in the 1950s and '60s. Their music connected to both rock 'n roll and rhythm and blues genres and was made popular by Elvis Presley among others.
If you grew up in that period, or love those two musical genres, you know their songs – from "Hound Dog," "Fools Fall in Love," "On Broadway,", "Jailhouse Rock," "Love Potion #9" and many others, including the title tune.
Director Stephanie Pope Lofgren (who also choreographed) and music director John Bronston have assembled a talented eight person cast – four men and four women – who offer the songs with varying degrees of success.
A major misstep was the costumes by Claudia Stefany. Not only did they not fit any specific period, but while the men are conservatively dressed, the women were attired in costumes more appropriate for go-go dancing or worse.
Individual elements of the show were good but somehow they didn't seem to all go together. The set by Jack Mehler seems to look like an upscale supper club or restaurant; that doesn't jell with the music.
Both music director John Bronston and director/choreographer Stephanie Pope Lofgren do a good job keeping the one act show moving. Bronston leads a six piece combo that keeps the beat going.
Yet any show like this depends on the cast. The eight member cast each has solos, duets and group that present 36 songs.
The opening number, "Neighborhood" got the evening off to a great start with wonderful harmonies from the entire cast. The ensemble shined in "DW Washburn" that featured Avionce Hayles.
While Jordan Fife Hunt gave a great rendition of "Loving You," the stand-out performers were Arnold Harper II and Juson Williams and the men really put over "There Goes My Baby."
If you are a fan of Leiber & Stoller and the classic early rock and rhythm 'n blues, you will have a great time at Smokey Joe's Café.
For tickets visit ActOfCT.org.